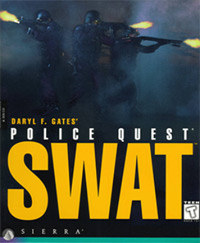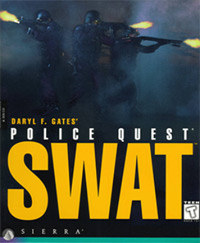 Daryl F. Gates' Police Quest: SWAT
PC
Tactical simulator allowing you to play the role of an officer of the anti-terrorist unit S.W.A.T. We take part in daily training, briefings and other duties on the premises of the unit. When we receive a tender offer, we go to the place of action and try to solve the crisis.
Simulation | tactical | Police
Daryl F. Gates' Police Quest: SWAT

Release Date PC

30September1995
Daryl F. Gates' Police Quest: SWAT is a game which is a kind of a bonding between the previous versions of the Police Quest series, which are classic adventures, and tactical sequels devoted to the most famous crime fighting unit. In this production, the creators decided to focus primarily on the faithful representation of the training of police officers, which was helped by the creator of the branch mentioned in the title by name.
The game was divided into two elements. The first one is meticulous training on the premises of the unit. It includes theoretical preparation during briefings and lectures, as well as practical exercises at the shooting range which teach how to use particular types of weapons and additional equipment. Our activities are evaluated by instructors.
Contrary to appearances, the actual missions to which the S.W.A.T. unit is called are of lesser importance. In total, three scenarios have been prepared: an incalculable older woman waving weapons and posing a threat to the environment, shots have been heard in one of the warehouses and it is necessary to examine what has happened and the reflection of hostages held in one of the office buildings. Our role is limited to giving simple instructions to companions, sweeping through rooms and eliminating armed attackers.
Daryl F. Gates' Police Quest: SWAT offers two-dimensional visuals, using motion capture technology to transfer images of actors playing all the characters in production to the computer screens.
Please let us know if you have any comments or suggestions regarding this description.
Last updated on 05 December 2012
Game mode: single player
User score: 6 / 10 based on 38 votes.
Age restrictions Daryl F. Gates' Police Quest: SWAT: Good for all ages.