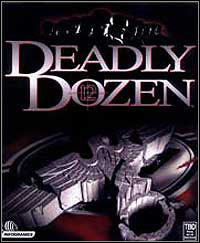 game language: English
game release date for PC:
15November2001
Infiltrate German occupied territory with your squad of military misfits. Destroy, steal and kidnap your way out. Sweaty palms and sniper rifles span six war torn countries. Survive the tension and intrigue of a movie-quality WWII classic on your computer.
Locations
* Huge, detailed 3D environments
* 10 Missions in locations such as Africa, Norway, France, Denmark, and Germany
* Goal based gameplay offers complete freedom in developing mission strategies
* Dynamic and interactive world that can change throughout the mission: tanks drive around, soldiers patrol, reinforcements are called.
A.I.
* Enemies have several levels of alertness depending on the player's actions. Make a noise and they come to check it out, fire a gun and they run over guns ready.
* Full scheduling: enemies patrol, dogs follow their master, tanks drive along the roads, field generals direct the action.
* Enemies work together with long range units staying back to cover the sub-machine gunners who slowly advance on your position.
* Dogs and field generals have the ability to alert their comrades. If they see you they will make a lot of noise (barking or whistle), calling everyone in the area to their aid.
*
Morale is a factor, the enemy may break down and either go on a berzerk charge or drop their weapon and beg for mercy.
Gear
* Over 10 different weapons (US and German) that the player's squad can use throughout the game
* Many different items are available during missions including medical kits and explosives
* Stationary weapons like mounted machineguns that the player can overtake and use on the enemy
* 5 drivable vehicles as well as several non-drivable enemy vehicles
Characters
* First or third person view point, toggled via a key dynamically in-game
* 12 soldiers to choose from, each with unique skills
* Many different types of enemies that can use various weapons, totaling over 24 different enemy variations
Graphics
* True indoor/outdoor engine, fight inside a huge mansion and out in the fields all without a single load screen
* Weather effects such as rain and snow with variable intensity as the mission progresses
* Smooth-skinned skeletal animation system for smooth and varied character animation with over 700 animations
* Powerful particle system that allows for an infinite variety of movie-quality special effects: water fountains, fire, smoke, sparks, explosions, etc.
Sound
* Dynamic music system, the tempo depends on the action
* 3D sound that supports DirectSound3D, EAX, A3D as well as a fast software emulated 3D sound system

Game score 8.2 / 10 calculated out of 364 players' votes.
PEGI Rating
System requirements
PC / Windows
Recommended: Pentium III 800MHz, 256MB RAM, 32 MB graphic card