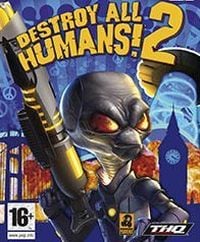 Destroy All Humans! 2: Make War Not Love
Destroy All Humans! 2: Make War Not Love is the sequel to the great action game Destroy All Humans!, which confronts us with a conflict between humanity and the newcomers from the Cosmos. However, unlike most of these situations, this time we are on the aliens' side.
Adventure | TPP | science fiction | humorous | TPS | action adventure | 60s and 70s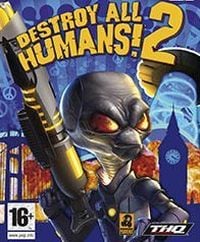 Game mode: single / multiplayer
Multiplayer mode: split screen, players: 1-2
Sequel to the widely acclaimed hit – Destroy All Humans! 2 takes the brand's irreverent Sci-Fi action gaming experience into the swinging sixties with new and improved game features, open-world gameplay and co-op multiplayer. Set against a backdrop of free love, the Cold War and other 60's era icons, DAH 2 takes players around the world with an upgraded arsenal of weapons and enhanced mental abilities to battle a variety of enemies from secret agents and giant creatures, to Soviet Forces and alien warriors.
* Play As The Alien – DAH turns the tables on traditional sci-fi action games allowing gamers to play as the Alien and take on the most feared enemy in the galaxy – mankind
* Unleash Massive Destruction - Players have total freedom to destroy anything and manipulate everything in the world
* Probe the World – Never leave the game world as you explore open-world game environments – from Bay City (San Francisco), Albion (London), Takoshima Island (Tokyo) and Tunguska (Russia)
* Co-Op Multiplayer – Team up with another player and Destroy All Humans together via split-screen Co-Op Game mode. Play through the entire single player game together or replay missions already completed in single player mode.
* New and Enhanced Weapons – Old weapons like the Zap-o-Matic receive a destructive makeover – while new weapons – The Meteor Strike, Disclocator and Gastro Gun are added to the alien arsenal, along with new hidden weapons to discover
* New and Enhanced Mental Abilities – All abilities are upgradeable and include old favorites like PK, Cortex Scan and Hypno Blast. New alien abilities include the Transmogrify, Mind Flash and Body Snatching abilities
* Developed by Pandemic Studios creators of critically acclaimed games Full Spectrum Warrior, Mercenaries and Star Wars Battlefront
Similar games:
PEGI Rating
System requirements
Sony PlayStation 2
Uses: memory card 8 MB