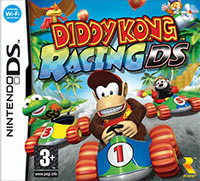 Diddy Kong Racing DS
NDS
Diddy Kong Racing DS from Nintendo is a racing game. We compete mainly using go-karts, although other vehicles also hit the market. The plot revolves around Wizpig, a crazy alien who has taken control of the island and all the racetracks on it.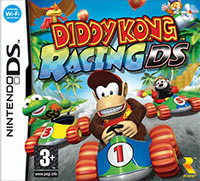 Game mode: single / multiplayer
Multiplayer mode: local network, players: 1-4

game language: English
game release date for NDS:
05February2007
Trouble in Tropical Paradise
After years of living in peace and harmony, the inhabitants of Timber's Island are shocked when their tropical paradise is invaded by a giant, hideous space pig! To thwart Wizpig's nefarious plans, explore the sprawling island, unlock hidden racetracks, and drive, hover and fly against colorful characters in high-octane competitions!
Your host, a gregarious elephant named Taj, greets you in a grassy meadow. Drive over bridges, through sparkling surf and around volcanoes. Start racing. You'll have to speed through a huge variety of racing challenges if you want to unlock all the island's secrets, complete the adventure and save your friends from the parlous pig. Diddy Kong Racing DS boasts a huge number of courses, including several all-new ones!
Diddy Kong Racing DS offers three types of vehicles: karts, hovercraft and airplanes. The drivers range from the quick and the small to heavyweights who specialize in bashing rivals off the course. Duel with classic DKR power-ups like oil slicks, gas clouds, land mines, super shields, speed boosts, homing missiles and magnets. In Diddy Kong Racing DS, you'd better be ready for anything under the sun!
Diddy Kong Racing DS Gives You More, More, More
This great new game comes crammed with enhancements, many of which weren't even dreamed of when the N64 original came out:
* Wish Race mode gives you complete freedom to design, build, and race on the track of your dreams, thanks to excellent use of Touch Screen controls. Nintendo Wi-Fi Connection compatibility lets you share your work of genius with everyone. Of course!
* Drivers can use Nintendo WFC to go online and race against players from around the world! Diddy Kong Racing DS also features multiplayer single-card download play and multicard local wireless play.
* Create your own multiplayer icon! Choose from a full palette and three kinds of brushes to create a masterpiece that identifies you in the midst of multiplayer madness.
* Unique touch controls! Spin a tire to get a speed boost off the starting line, and much more!
* Monkey around with two new racers: Dixie Kong and Tiny Kong!
* Customization rules! Diddy will make sure you can pull out your (virtual) monkey wrench and upgrade your vehicle's speed, durability, and appearance.
* And more: A faster frame rate, retextured and remixed tracks, new racing challenges, brand new levels, improved vehicle control and more make this an experience that both newcomers and savvy vets will love!
Similar games:
PEGI Rating