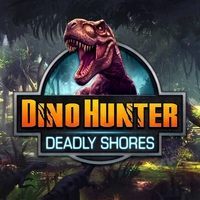 Dino Hunter: Deadly Shores
Dino Hunter: Deadly Shores is a browser-based shooter where we hunt for dinosaurs. While playing, the player must defeat a series of missions. In each of them is in a static position and its task is to eliminate all prehistoric reptiles within reach.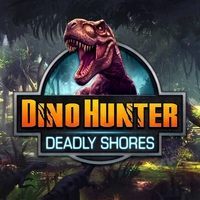 Dino Hunter: Deadly Shores, released on AND, iOS and browsers, is a hunting shooter. The game was developed by Glu Mobile and it is available in a free-to-play model with microtransactions.
Plot
The action of Dino Hunter: Deadly Shores is set on a mysterious island, where, according to rumors, the ecosystem hasn't changed for several dozen million years. A few fishermen claim that dinosaurs have survived in this place, while most consider it to be lies. We play the role of a hunter who believes that the legends are true and after many years of searching for the island we finally manage to reach its shore.
Mechanics
The events are observed from the first-person perspective. Dino Hunter: Deadly Shores doesn't try to pretend to be a realistic hunting simulator. We won't find here any tracking mechanics or even any real exploration. During each mission, we stand in one place and our task is to shoot down dinosaurs. However, this doesn't make the game simple, because we are most often attacked by numerous and powerful animals.
The action takes place in meadows, dense jungles or the coastline filled with shipwrecks. The creators also took care of a large selection of dinosaurs, from a gentle Stegosaurus to a T-Rex. To kill these prehistoric beasts, you need deadly weapons - among them, you will find rocket launchers and a crossbow firing large metal stars. In addition, the game gives us various tasks, so that we always have something to do. The game is also driven by an extensive character development system and it has the option to upgrade our equipment.
Similar games:
Dead Trigger 2
Age Rating
age requirements: 16+