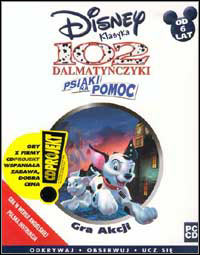 Disney's 102 Dalmatians: Action Game
PC
An arcade game enriched with light adventure elements, the plot of which was based on the popular Disney film. Two clever puppies, Zmylka and Domino, face the cunning Cruelli De Mon, who has once again developed a perfidious plan to kidnap many small dogs.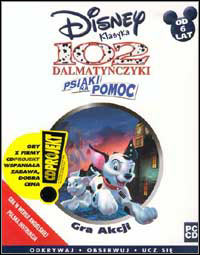 game language: English
game release date for PC:
08November2000
102 Dalmatians is a 3D action adventure where you become a courageous Dalmatian puppy who must rescue your family and friends from the clutches of Cruella De Vil.
Disney's 102 Dalmatians: Puppies to the Rescue features beloved characters from 101 Dalmatians and new characters based on the upcoming 102 Dalmatians live action movie. Intuitive gameplay, entertaining mini games and 3D exploration make this title fun and accessible for all children of all ages!
The Story
Cruella de Vil is on the brink of financial ruin, so she seeks to replenish her depleted bank accounts with a new business venture, 'Cruella's Toy Company'. Enlisting the help of hapless inventor Rodney Farzboom, Cruella designs an entire line of vile, terrifying toys.
When her toys are a colossal flop at stores throughout England, Cruella concludes that, the children are distracted from buying the wonderful toys because of all the attention they so needlessly lavish on their stinking, spoiled pets.
To rectify this situation, Cruella cracks the Baduns out of prison and sets them to the task of stealing every pet in England. The Baduns with the help of Cruella's inventor Rodney Farzboom, reprogram the control chips in Cruella's toys, transforming shelves of unsold merchandise into a miniature army of robotic petnappers.
Our heroes are two of Dotty and Dipstick's puppies, Domino and Oddball (boy and girl). Once more, Domino and Oddball have gone against their mother's wishes and have left to go out on one of their "…explorin' adventures".
After spending the day exploring, Domino and Oddball return to their cosy living room "…for a snack and a snooze". The puppies are shocked to learn that all of their brothers and sisters have vanished again. The puppies watch a TV news special broadcast, which explains in urgent tones that pets throughout England are vanishing without a trace. However, Dotty and Dipstick are sure that somehow Cruella is behind the missing pets, and they set off to confront Cruella and rescue their dogs.
Domino and Oddball are left behind for their own safety, but the pair of puppies are certain that their parents will need their help, so they depart their London flat and there begins a new adventure.
Features:
- Escape Cruella's wrath in this classic 3D action-adventure.
- Sniff, dig and dog-paddle your way through 20 levels plus six fun mini-games.
- Explore huge, colorful playgrounds including Big Ben, Regent's Park, The Ice Festival and De Vil Manor.
- Outwit Cruella's henchmen, Horace and Jasper, by luring them into secret traps!
- Solve tricky puzzles, perform silly tricks and play with in-game toys all promising hours of engaging gameplay.
- Interact with characters from the 102 Dalmatians live-action movie.

Game score 8.5 / 10 calculated out of 688 players' votes.
PEGI Rating
System requirements
Recommended:
Pentium II 300MHz
64MB RAM
graphic card