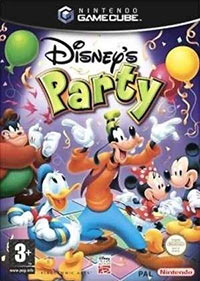 Disney's Party
GCN
Disney's Party is a collection of puzzles that take you into the enchanted Walt Disney world, where you can meet your childhood darlings.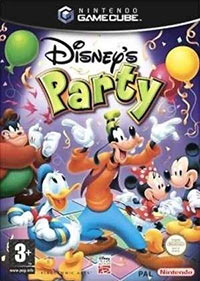 Game mode: single / multiplayer
Multiplayer mode: common screen, players: 1-4

game language: English
game release date for GCN:
16September2003
These days, it seems that every popular mascot is having a party. It's only fitting to see Electronic Arts step up to the plate with Disney's all-star lineup of mascots in Disney's Party for the Nintendo GameCube.
He's Not Such a Cranky Guy After All
Beloved curmudgeon Scrooge McDuck is holding a party chock full of games and has invited all your favorite Disney friends to a giant theme park. Players can choose to compete as Mickey, Minnie, Donald, Daisy, Goofy or newcomer Billy the robot.
As many as four gamers can join the four-way competition. If there aren't enough human players, the computer handles any remaining characters.
You can level the competition by adjusting the difficulty level for each player.
B-I-N-G-O
At the beginning of each match, players are given a 5x5 game board in which they must line up rows of game pieces, bingo-style. These pieces can be won in mini-games, purchased from stores or be granted (and even taken away) during special events.
To add a bit of strategy, players can also block rows from being completed on other players' game boards. The length of the game is determined by the number of rows that must be completed.
Finally, a Democratic Board Game
Once the game begins, player moves are determined by a novel combination of voting and chance.
Depending on where your character is, you take one to four possible routes. Before moving, each player must choose where she or he would like to go. Once the voting is completed, a roulette-like wheel appears and spins. The more votes a particular location got, the more likely it will be chosen.
Locations include mini-games, special events and shops.
Players can earn both money and game pieces at mini-games, all of which have a strong Disney flavor. Pluto, the cards from Alice in Wonderland and other characters from classic Disney movies make cameo appearances.
In every mini-game, it's every character for his or her cute self. There are no two-on-two or three-on-one competitions.
Less Rules = More Fun
If the rules sound a bit daunting, you can always call upon Tinkerbell for assistance. She will explain every move, location and mini-game in great detail. You can even practice a mini-game before competing for game pieces.
After a mini-game is unlocked in Game Board mode, you can play it again by accessing Mini-Game mode from the main menu.
The characters have been faithfully modeled in 3D after their original hand-drawn counterparts. All the characters also feature familiar utterances. There's nothing quite like watching Donald go quackers after losing a mini-game!
I'm Going to Disney's Party!
EA's Disney's Party offers a unique twist on the typical party board game and pays homage to Disney's wealth of cartoon heritage. RSVP your invitation as soon as this title hits store shelves.
Similar games:
PEGI Rating
System requirements
Nintendo GameCube
Uses: memory card