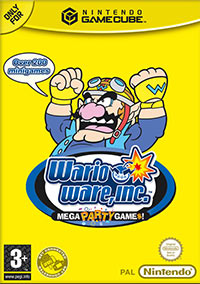 WarioWare Inc.: Mega Party Game$
GCN
Wario Ware Inc.: Mega Party Game$ is a continuation of the series known to GameBoy Color and Advance console owners. Now Wario is also attacking GameCubes! The game contains more than 200 different mini-games in which up to 4 players can take part at the same time.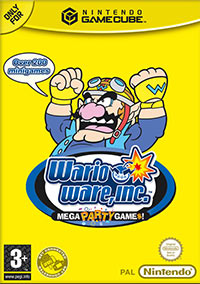 Game mode: single / multiplayer
Multiplayer mode: split screen / common screen, players: 1-4

game language: English
game release date for GCN:
05April2004
Wario is back in the video game biz, and this time the tightfisted microgame master is servin' up some insane party games on Nintendo GameCube. The 200+ hysterical microgames from Wario Ware, Inc.: Mega Microgame$ are making a triumphant return on the big screen, supported by wildly creative multiplayer matches starring Wario's crazy crew of video game developers.
Features
* Microgames magnified! All the madness of the classic microgames is intensified as you and your friends compete to beat one another in all-new party games!
* More players than you can shake a stick at! Play with up to four players in most party-game modes, or share a Controller among 16 players for some of the craziest gaming you've seen!
* Wario's friends and fellow game developers from the Game Boy Advance game are back in action: Dr. Crygor, Dribble & Spitz, Jimmy and the rest of the crew are ready to party!
* Tons to unlock! Play through the single player mode to unlock over 200 minigames and more than a dozen additional features, including bonus game modes, movies, music videos, and more.
WarioWare is definitely not your typical party game. All of the game's multiplayer modes center around the hilarious microgames which were originally introduced in the Game Boy Advance version of WarioWare, but each mode has a zany twist which adds a whole new level of fun and unpredictability.
In Jimmy's Survival Fever, you'll strut your stuff on the disco floor between microgames. Falter in the games, and you'll lose your fans out on the floor. When you're boogying solo, you lose! In Wario's Outta My Way, you have to complete microgames as your opponents move their characters around on the screen to get in your way. It's harder than it sounds to finish a game with Wario's big melon taking up half the screen!
All of Wario's fellow game developers get in on the action with their own twists on the GBA classics. In Mona's game, you actually have to perform stunts like playing a game while yawning or while looking away from the screen. Since your opponents will rate your performance when you're done, there's no cheating! And this is just the beginning -- there are a dozen multiplayer modes to turn your micro party into a mega party.
Bottom Line
When it comes to lightning-fast, hilarious multiplayer action, it just doesn't get any better -- or bizarre -- than WarioWare, Inc.: Mega Party Game$. You have to play this one to believe how crazy it can get!

Game score 7.115 / 10 calculated out of 21 players' votes.
Similar games:
PEGI Rating
System requirements
Nintendo GameCube
Uses: memory card, GCN-GBA Link