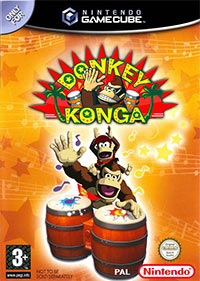 Donkey Konga
GCN
A musical arcade game from the monkey series Donkey Kong, addressed to the younger part of the players. A special controller in the shape of two drums is attached to the game.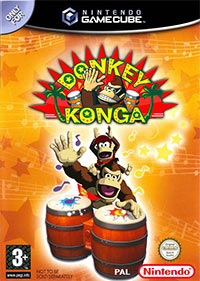 Game mode: single / multiplayer
Multiplayer mode: common screen, players: 1-4

game language: English
game release date for GCN:
27September2004
Join Donkey Kong and Diddy Kong as they drum and clap their way through hits old and new on a musical adventure that's more fun than a post-Grammys party featuring prehensile tales and lots of bananas.
Features
* Play along with your favorite tunes using the all-new DK Bongos Controller
* Connect up to four DK Bongo Controllers for multiplayer musical mayhem!
* Over 30 familiar songs, ranging from kids' medleys to classical to pop favorites!
* Three difficulty levels and five modes of play
You could put a lampshade on your head. Or you can party the cool new way: beating out tunes with Donkey Konga and the new DK Bongos Controller that's included with the game.
Play along on the bongos as you follow the scrolling notes. With each beat or clap, your sense of rhythm will be rated Bad, OK or Great. Pretty easy at the Monkey level, but just try to evolve into a Chimp player and you'll see how challenging this bongo racket can be. Gorilla level is even tougher. Donkey Konga really rocks when two, three or four party animals join the mano-a-mano action.
If you do well, you'll earn coin for buying tougher versions of songs, minigames like the 100m Vine Climb, wacky sound effects and more.
Madcap musical multiplayer modes include Jam Session, Challenge and Battle. In Jam Session, as many as to four players can play separate tracks of the same song. It's a grueling test of who can keep playing without cracking up. In Challenge Mode, try to clear as many songs as possible. You're only allowed so many mistakes, though. In Battle: Sabotage your rival's effort to make like a rock-star drummer.
Songs
* All The Small Things
* Bingo
* Busy Child
* Dancing in the Street
* DK Rap (Donkey Kong 64 Theme)
* Donkey Konga Theme
* Happy Birthday
* Hungarian Dance No. 5 in G Minor
* The Impression That I Get
* I Think I Love You
* I've Been Working on the Railroad
* Itsy Bitsy Spider
* Kirby: Right Back At Ya!
* The Legend of Zelda Theme
* Like Wow
* The Loco-Motion
* Louie Louie
* Mario Bros. Theme
* On the Road Again
* Oye Como Va
* Para Los Rumberos
* Pokèmon Theme
* Right Here, Right Now
* Rock Lobster
* Rock This Town
* Row, Row, Row Your Boat
* She'll Be Comin' 'Round the Mountain
* Shining Star
* Sing, Sing, Sing (With a Swing)
* Stupid Cupid
* Turkish March
* We Will Rock You
* What I Like About You
* Whip It
* Wild Thing
* Yankee Doodle Dandy
* You Can't Hurry Love
Bottom Line
Get the big-beat party going with Donkey Konga. It's a fab rhythm experience that's guaranteed to bring the house down!

Game score 7.87 / 10 calculated out of 59 players' votes.
PEGI Rating
System requirements
Nintendo GameCube
Uses: memory card, Donkey Konga Tarukonga