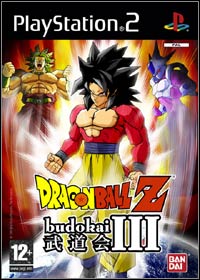 Game mode: single / multiplayer

game language: English
game release date for PS2:
16November2004
Dragon Ball Z: Budokai 3 is another edition of a fight based on popular comics and a TV series under the same title. Compared to the previous parts, the authors introduced a number of improvements and new solutions.
The main gameplay mode is single player play in Dragon Universe mode. Here you play the characters from the Dragon Ball Z and Dragon Ball GT series to play their roles in the most important events presented in the storyline of both series. On our way we have to find and defeat such as Goku, Piccolo, Gohan, Vegeta and Recoombe. Unlike previous editions in Budokai 3, during our journey through the game world we can develop our character in a completely different way thanks to the new system of skill capsules. Like cRPG games, it allows you to distribute your Z points to improve your health, ki energy, attack, defense and dexterity, among other things. Despite the linear storyline, the player can decide where to travel on the map of the game world on which the most important locations are marked. This allows you to experience many additional adventures and gain experience on various hidden enemies. In addition, progress in battles in Dragon Universe means gaining new arenas of battles and new playable characters from over 40 different.
The next option is Duel Mode. In this mode, players are fighting only duels. You can fight with computer opponents or with a second player. The World Tournament mode allows users to fight in tournaments. The series of skirmishes is fought in various arenas and with many types of opponents of different difficulty levels. For beginners there is a special training mode in which we can get to know each of the available fighting styles. In addition, for the best players to unlock a special Dragon Arena mode is waiting for a modified game in Duel Mode where along with the next clashes we gain experience points for defeated opponents. In addition, through the official game website, we can obtain special game codes, the introduction of which transfers the characters of other players to our game. With its help, we can also boast of our hero's profile in front of others.
Minor modifications were made to the player control system. Still basic are hand, leg, block and energy missile attacks. The whole can be combined into various combo shots, throws, grips and unique special blows depending on how extensive our skills statistics are. We can weaken opponents now with four new types of attacks: Teleportation Counter - a sudden dodge, Teleportation Tornado Combo - the ability to beat opponents in the air, Dragon Rush Attack - fast, stunning attacks and Bukujutsu Flight Mode - the ability to fly in the air whenever we want.
As in previous editions of Dragon Ball Z: Budokai 3 characters were lent voices by actors responsible for the soundtrack of the TV series. The majority of musical works were also transferred from it. Graphic design as in Budokai 2 was created with the use of cel-shading technology so that the whole is trying to faithfully reproduce the appearance of the characters and the world of the game from comic books and Dragon Ball series.
Please let us know if you have any comments or suggestions regarding this description.

Game score 8.4 / 10 calculated out of 2612 players' votes.
PEGI Rating