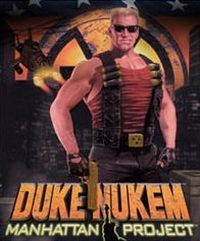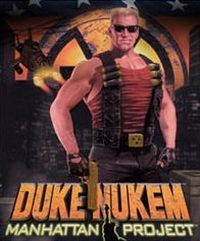 Duke Nukem: Manhattan Project
In Duke Nukem: Manhattan Project we go back a little bit in time, until some mysterious people decided to discover a new source of radioactive energy, when Duke was busy fighting foreign invaders.
Gaming's king of action returns in an all new adventure, this time in New York City. Duke battles his way across towering skyscraper rooftops and through gritty subway stations on the hunt for power-hungry villain, Mech Morphix. Mutants of every kind are thrown at Duke as he chases down Morphix through eight huge environments and avoids the green slime called GLOPP that is causing all the chaos.
But radioactive smile isn't Duke's only problem - there are more than 25 uniquely dangerous mutated enemies hell-bent on making a meal of him. Whether it's Uzi-sporting alligators or ten-foot ball roach beasts - Duke's in town to blast bad guys and save babes. Sure, pipe bombs, a machine gun, a rocket launcher and a pulse cannon are gonna make a goo-filled mess in the Big Apple, but what's a hero to do?
Highlights
* Fast-action 3rd person platform gaming in a rich 3D environment
* Dynamic, zoomable camera gets you close to the action and shows Duke battling it out from many different angles
* 8 huge, immersive NY-themed missions: Rooftop Rebellion, Chinatown Chiller, Metro Madness, Unholy Underworld, Fearsome Factory, Tanker Trouble, Deviant Drilling and the final out-of-this-world episode
* 9 powerful weapons: Golden Eagle Pistol, Shotgun, Assault Rifle, Pipe Bomb, GLOPP Ray, Pulse Cannon, Pneumatic Rocket-Propelled Grenade Launcher and the Mighty Boot kick. Plus, some weapons get powerful upgrades by collecting all Nuke symbols in the various skill levels, leading up to the incredible X-3000!
* More than 25 enemies ranging from the Gator-Oids, mutated Uzi-wielding alligators, to Fem-Mechs, female robot mutants with deadly whips. Classic Duke enemies like the PigCops will also be among the dead piled up at your feet
* True Duke Nukem action and attitude, great weapon effects and sarcastic one-liners
Last updated on 10 December 2007
Game mode: single player
Media type: 1 CD
User score: 8,4 / 10 based on 1040 votes.
PEGI rating Duke Nukem: Manhattan Project
Duke Nukem: Manhattan Project System requirements
Recommended:
Pentium III 500MHz
64MB RAM
graphic card