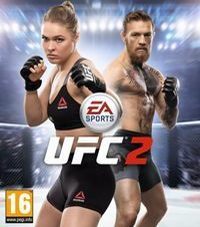 Game mode: single / multiplayer
Multiplayer mode: Internet
In 2014, Electronic Arts launched a new sports series for the fans of MMA, EA Sports UFC. EA Sports UFC 2 for PS4 and XONE is the second installment of this franchise and introduces a lot of novelties and changes.
Gameplay
The gameplay in EA Sports UFC 2 is naturally about fights between famous MMA fighters. The developers tried to recreate real fights as realistically as possible. Among the biggest novelties of UFC 2, the most noteworthy one is the Knockout Physics System that is responsible for performing powerful finishing attacks. The creators also introduced major enhancements in the ground game, which is now more important. Moreover, the game boasts the biggest selection of fighters ever (now also including women). One of them, Ronda Rousey, can be seen on the cover art.
Game modes
EA Sports UFC 2 for PS4 and XONE allows us to play in various single and multiplayer modes. The basic one is the career mode, of course, in which we start from the bottom and climb to the top of the leaderboards. We may also jump right into the KO Mode that has only one rule: to wipe the opponent off the ring. However, before engaging in real fights, it is helpful to train in the Training Camps, first.
Another important mode is the UFC Ultimate Team, which is a collectible card mode. We create a team of MMA fighters (a maximum of five fighters of various weight classes) and have them fight in the ring. This way, we make money for new cards that, for example, increase the skills of our fighters.
The whole is complemented by the online struggle for the champion title as well as the fighter editor that allows us to modify the appearance of fighters.
Technical aspects
EA Sports UFC 2 for PS4 and XONE is powered by the Ignite engine known from other sports productions of Electronic Arts such as the FIFA series. Thanks to the introduction of more advanced physics, better fighter animations, and greater attention to details (more natural hair, for instance), the virtual matches resemble actual TV transmissions.