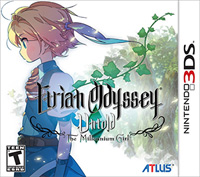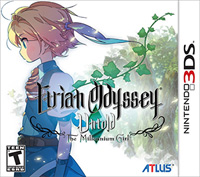 Etrian Odyssey Untold: Millennium Girl
3DS
Etrian Odyssey Untold: Millennium Girl is a refreshed version of the first edition of the Atlus dungeon cycle of crawlers. The authors expanded the plot, added heroes with expressive personalities and introduced numerous corrections to the graphic design.
RPG | FPP | fantasy | turn-based | dungeon-crawler | jRPG | Nintendo exclusive titles
Etrian Odyssey Untold: Millennium Girl

Release Date 3DS

27June2013
developer: Atlus publisher: Atlus Official website

game language: English
Etrian Odyssey Untold: Millennium Girl is a remake of the Etrian Odyssey RPG game, released on a mobile console in Nintendo DS. in 2007. The production was developed by Atlus studio, i.e. the same band that was responsible for the original.
The plot revolves around a small village near which a gulf leading to a powerful maze has been found. Since this discovery, all residents have been dreaming of going on an expedition to these dungeons and gaining great riches every night. The player takes control of a group of young daredevils who decide to explore the underground and find hidden treasures. Compared to the original, the authors significantly expanded the script. At the start of the campaign we get a team composed of expressive characters with their own personalities and past and equipped with dialogue issues played by professional actors. For the traditionalists, however, the possibility of resigning from these heroes and creating each member of the group on their own has been preserved.
Etrian Odyssey Untold: Millennium Girl is an oldskulowe RPG belonging to the category of the well-known dungeon crawler. This means that most of the fun comes down to exploring monsters, fighting monsters, collecting treasures and items, and developing statistics and heroes' skills. There can be up to five characters in a team at once. There are many different classes to choose from, each with its own equipment and special abilities. Compared to the original, several new professions were added, including a highlander and a shooter.
The action is observed from the first person camera, and the fights take place in the turn-based system. The dungeons have 25 floors with increasing difficulty levels. In addition to the main campaign, there are several dozen optional side tasks waiting for players. Manual mapping with the stylus on the console's touch screen also plays an important role. The game has been improved in audio-visual terms compared to the original from Nintendo DS. Location detail and diversity have been improved and numerous new sound effects and animated intermittent scenes have been added.
Please let us know if you have any comments or suggestions regarding this description.
Last updated on 30 August 2013
Game mode: single player
Age restrictions Etrian Odyssey Untold: Millennium Girl: 12+