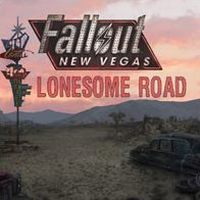 In the fourth add-on to Fallout: New Vegas entitled Lonesome Road the plot turns around. The Courier 6 by the name of Ulysses, the one which refused to deliver the platinum chip at the beginning of the game, contacts the player.
In the broadcasted transmission, Ulysses promises to explain why he made such a choice. However, he wants the player to perform the last quest for him, first. To do so, we go to the Divide canyons which are haunted by powerful earthquakes and hurricanes. These are the key location for the story of Lonesome Road. Before we get there, however, there is a long and dangerous journey ahead of us. No adventurer who travelled into these regions has ever managed to return.
Apart from the level cap raised by 5, Lonesome Road introduces some new equipment. There are also new clothes, such as new general coat and Ulyssesí clothes. The arsenal is enriched with a few interesting items, such as the rocket launcher.
Similar games:
PEGI Rating
System requirements
PC / Windows
Recommended: Core 2 Duo 2 GHz, 2 GB RAM, graphic card 256 MB (GeForce GF 6600 or better) , 10 GB HDD, Windows XP/Vista/7