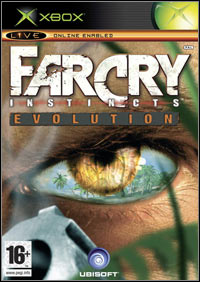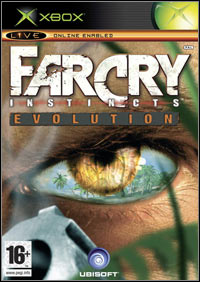 Far Cry Instincts Evolution
XBOX
Far Cry Instincts Evolution is a first person shooter made by the German company Crytek Studios in cooperation with Ubisoft Entertainment. According to the creators' assumptions, the game is a development of ideas that they implemented in Far Cry Instincts published in 2005.
Action | FPP | sandbox | shooters | Xbox exclusive titles
Far Cry Instincts Evolution

Release Date XBOX

28March2006
developer: Ubisoft publisher: Ubisoft Official website

game language: English
Far Cry Instincts Evolution is a first person shooter created by a German company Crytek Studios in cooperation with Ubisoft. The game expands on the ideas implemented in Far Cry Instincts released in 2005.
The story tells about the adventures of an ex-commando called Jack Carver. After many troubles the man decided to settle on an Micronesian island. He is not getting too well, though, and finds himself in need of a well-paid job. His close friend, Kate, comes along with help, contacting him with local pirates smuggling weapons and drugs. Jack attends a meeting with the boss of the crime organization, while the latter is negotiating with a corrupt governor. Unfortunately, before he has a chance to speak to them, the two men get shot by an unknown assassin. Immediately Carver gets accused of double murder and again has to escape into the depths of his island away from the revenge of pirates and CIA. Now his main goal is to survive and find the person responsible for the killing.
The arsenal that the hero has at his disposal was expanded with Molotov cocktails, remotely detonated explosives, and blowguns with poisoned arrows, useful for silent eliminations. There are also more classic weapons – shotguns, machineguns, and pistols. Much attention was given to the game's environment. Now you can admire many examples of modern Asian architecture. Artists also improved the appearance of beaches and vegetation. Here and there, you can find various means of transport, such as jeeps, trucks, pirate boats, and quads. Improvements are also seen in Artificial Intelligence – computer controlled opponents are smarter and more aggressive.
The game contains functional editor, which allows you to create multiplayer maps compatible with the base Far Cry Instincts. Multiplayer was expanded with Seek and Secure mode. Moreover, there are also other game modes: Chaos, Team Chaos, Steal the Sample, and Predator.
Game mode: single / multiplayer Multiplayer mode: Internet
Media type: 1 DVD
User score: 7,6 / 10 based on 114 votes.
PEGI rating Far Cry Instincts Evolution
Far Cry Instincts Evolution System requirements