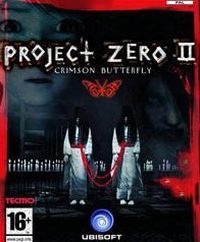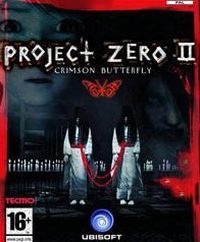 Fatal Frame II: Crimson Butterfly Director's Cut
The next installment of Project Zero, also known as Fatal Frame. This is a horrifying survival horror in which we fight ghosts through a camera. The game tells the story of two twin sisters who got lost in the forest.
Kill me.
Terror returns this Fall with Fatal Frame 2: Crimson Butterfly, the sequel to the highly popular survival horror title, Fatal Frame. This time the terrifying journey takes you to a whole new creepy setting, an abandoned village, where you play the role of Mio Amakura, a young girl who is gifted with a strong sixth sense and her twin sister Mayu, who notices a crimson butterfly faintly glowing in the sky.
Mayu, feeling mysteriously compelled to follow the butterfly, chases it into the dark forest. Mio unwillingly follows her sister into the forest's depths. After chasing the crimson butterfly to a clearing in the forest, the two sisters stumble upon a deserted village. Unknown to either sister is that this lost village will become the spooky setting for yet another horrifying tale guaranteed keep you up at night.
Features:
* New Setting - Brand new, wider settings in a mysterious lost village, opening up new terrifying possibilities. As Mio and Mayu return to a town in which they have spent many of their childhood years.
* New Main Characters - Mio is a young girl who is gifted with a strong sixth sense and desire to look after her twin sister Mayu, who has a twisted leg and an even darker and twisted curiosity which leads her to follow the crimson butterfly.
* Real Time Visuals - More horrifying real time visuals to keep you engrossed in the frightening tale.
* Unique Camera Combat System. The one-weapon combat system is back with the use of an antique camera. The weapon may be the same, but a variety of new features have been added to update the camera making it a more powerful ghost killer than ever before.
Game mode: single player
Media type: 1 DVD
User score: 8,3 / 10 based on 271 votes.
PEGI rating Fatal Frame II: Crimson Butterfly Director's Cut
Fatal Frame II: Crimson Butterfly System requirements