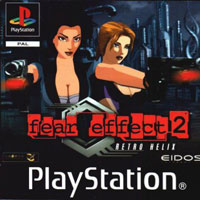 Fear Effect 2: Retro Helix
PS1
An extraordinary mix of many different species, which is a prequel to the 2000 release of the Fear Effect. The production combines elements of survival horror and action games, successfully weaving into them the mechanics known from RPGs and logical games.
Adventure | science fiction | survival horror | action adventure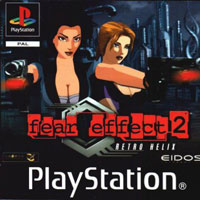 game language: English
game release date for PS1:
21February2001
Prequel of the 2000 hit prepared by Kronos Digital Entertainment studio. The production brings a number of improvements and new elements, while maintaining the specific style of the original. The game once again presents a story that mixes spy, science fiction and supernatural themes.
Story
The world's EINDS pandemic is changing order. Criminal organisations gain enormous influence. In this reality, the four heroes, mercenaries Hana and Rain, a former soldier Glas and killer Deke, somehow try to exist, taking on new orders. Soon all four of them are entangled in an intrigue that will make their lives intersect, and they will face the supernatural forces themselves. Retro Helix tells the story of the characters before the events presented in the original Fear Effect.
Mechanics
Retro Helix is again based on the exploration mechanics known from many other PS1 survival horrors. The action is presented from cameras located at specific points, and the protagonists move according to a specific model in which they behave like a tank - they can only move forward and backward, and also rotate to change the direction of the run. However, the continuation of Fear Effect is distinguished from many competitors by a much higher pace of fun and a greater focus on action. Player-led heroes face dozens of different enemies, from mercenaries to robots and supernatural beings. Dozens of equipment elements, such as pistols, rifles, rocket launchers or various weapons, which are the product of the authors' imagination, can be used to fight against them.
The production of Kronos Digital Entertainment offers a much longer time of fun than its predecessor. It also encourages you to go through the basic plot many times in order to get special weapons, discover all the secrets and get to know a few prepared endings. Retro Helix is also not entirely linear, which is influenced by the moments when the player has to make a specific decision affecting the rest of the adventure.
Technical issues
Fear Effect: Retro Helix once again stands out in terms of style and audiovisual setting. The futuristic world of the future, in which science fiction and religious elements interweave, is presented through an unusual combination of rendered boards and target-shade character designs. The continuation is intended for adult audiences and contains many controversial threads and scenes.
Please let us know if you have any comments or suggestions regarding this description.
Similar games:
Age Rating
age requirements: 18+