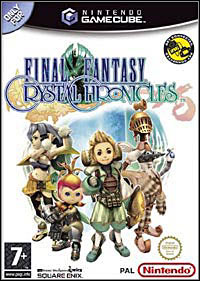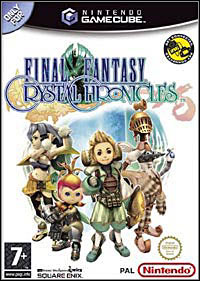 Final Fantasy: Crystal Chronicles
GCN
A Japanese Roleplaying game from the legendary Final Fantasy series. The whole thing allows for a traditional lonely party, but in reality there is a cooperation mode that allows you to play from two to four people at the same time, who in this way form a team of adventurers.
RPG | TPP | fantasy | co-op | jRPG | splitscreen | Nintendo exclusive titles
Final Fantasy: Crystal Chronicles

Release Date GCN

09February2004
developer: Square Enix publisher: Nintendo Official website

game language: English
The Final Fantasy series explodes onto Nintendo GameCube with action-packed multiplayer gameplay and an epic storyline seeped in Final Fantasy style and lore. Final Fantasy: Crystal Chronicles tells the tale of a land covered in poisonous miasma where people depend on precious crystals to stay alive. Using Game Boy Advance systems as controllers, four players can team up to solve puzzles, defeat enemies and survive in a land teeming with danger. This game is a must-play for any Final Fantasy fan!
Features
* Finally -- Multiplayer Final Fantasy! Crystal Chronicles is the first multiplayer Final Fantasy game available on home consoles in the United States.
* Using the Game Boy Advance as a controller, players are able to control their characters on-screen, while receiving unique information on the Game Boy Advance screen which other players cannot see.
* Fight through an epic role-playing game with the story and graphic quality players have come to expect from the Final Fantasy series!
* Use magic spells and special attacks to combat amazing enemies in massive real-time battles!
In a world ravaged by plague, the people depend on a blessed crystal. In order for this crystal to maintain its sparkle and power, Mirula Droplets are constantly needed. Every year, the Crystal Caravan travels forth to collect the precious Mirula Droplets in the darkest, deepest caverns of a far-off dungeon. The player and as many as three friends must make the vital excursion to save the villagers' lives, traveling through a wilderness overrun by monsters and other perils.
Crystal Chronicles jettisons turn-based combat. Instead, the action is all real-time and takes place in a three-quarter perspective. Unlike many cooperative multiplayer games, Crystal Chronicles does not employ a split-screen system. Instead, players must travel together in a band. Complicating matters mightily is the poisonous cloud that blankets the world. The only thing protecting you and your friends from atrophy is a magic crystal that generates a small force field. Should any member of the group leave the protected circle, they'll be fully exposed to the hazardous fumes.
Control using the Game Boy Advance is simple and intuitive. Pushing the A Button will activate whatever ability you currently have selected. When using standard attacks, holding down the A button allows you to charge up an attack. Both offensive and defensive spells can also be powered up. While charging up, your character is vulnerable to attack. Therein lies the beautiful multiplayer strategy, as your fellow travelers must work to protect you from harm.
Bottom Line
While much of the gameplay in Final Fantasy: Crystal Chronicles involves hacking and slashing through colorful monsters, Crystal Chronicles is essentially about teamwork. You'll have to communicate constantly with your teammates to let them know what your GBA display is telling you, and vice versa. With its impressive innovation and action-packed gameplay, Final Fantasy: Crystal Chronicles shines as one of the most engrossing titles on the horizon for Nintendo GameCube.
Last updated on 10 December 2007
Game mode: single / multiplayer
User score: 7,3 / 10 based on 52 votes.
PEGI rating Final Fantasy: Crystal Chronicles
Final Fantasy: Crystal Chronicles System requirements