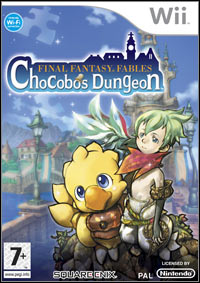 Final Fantasy Fables: Chocobo's Dungeon
Wii
A game of the jRPG genre, in which great emphasis was placed on showing the title Chocobo, i.e. gifted with magical powers of overgrown birds. We explore the game world, solve quests and defeat monsters.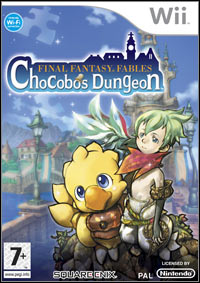 Game mode: single / multiplayer

game language: English
game release date for Wii:
08July2008
The adorable cast of characters, including Chocobo and his friends, comes exclusively on Wii. Players will unlock the secrets of a mysterious tale by following Chocobo through a multifaceted dungeon-style RPG using the intuitive Wii controls.
A fantastical and unique visual world is brought to the screen by renowned character designer Toshiyuki Itahana, whose most recent work includes the character designs for FINAL FANTASY CRYSTAL CHRONICLES®: Ring of Fates®. The stunning artwork complements the intricate storyline and will immerse players in an adventure filled with unexpected twists and turns.
ROMANTIC PHRASES
Collect secret phrases to exchange for in-game rewards! Keep an eye out for FINAL FANTASY FABLES: Chocobo's Dungeon codes on the official website, magazine ads and online features to unlock hidden items and more for the adorable Chocobo. For starters, take the phrase "Dragon Crest" and follow the guidelines on the official website to obtain a rare card for the game's 3D pop-up card battles!
STORY
Chocobo and Cid, FINAL FANTASY mainstays-turned-treasure hunters, are magically transported to a mysterious town whose people's memories are lost with each bell toll of the clocktower. One day, a strange boy named Raffaello arrives and creates dungeons of memories to help the townspeople remember who they are. Now it's up to Chocobo to journey through the dungeons and retrieve everyone's memories!
FEATURES
• A charming, vibrant game world coupled with an engaging storyline and challenging turn-based battles to create a fun and entertaining RPG environment.
• A compelling gaming experience utilizing a variety of classic FINAL FANTASY jobs such as the knight, black mage and white mage to aid Chocobo in his fight against evil.
• Character designer Toshiyuki Itahana, from the FINAL FANTASY CRYSTAL CHRONICLES series and FINAL FANTASY FABLES: Chocobo Tales™, lends his charming art style.
• Duel against friends via Nintendo Wi-Fi Connection in addictive card battles featuring popular FINAL FANTASY creatures in a unique 3D pop-up book style
• Collect hidden letters throughout the adventure and form special phrases to unlock secret dungeons and jobs.
• The signature Mog House offers arcade-style mini-games that can be played with intuitive Wii Remote controls.
PEGI Rating