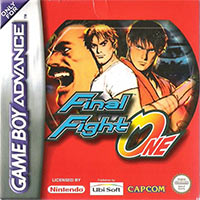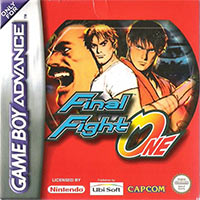 Final Fight One
GBA
Final Fight One is, as the title suggests, the first installment of the famous cycle of so-called walking brawls, initiated on coin-op machines at the end of the 1980s. The remake is designed exclusively for the pocket-sized Game Boy Advance console.
Final Fight One

Release Date GBA

26September2001
developer: Capcom publisher: Capcom Official website

game language: English
A pocket-size version of Capcom's arcade hit from 1989, Final Fight One is the classic side-scrolling fighter. Help good guys Guy and Cody and tough-as-nails Mayor Mike Hagger rescue Mike's kidnapped daughter Jessica and clean up Metro City once and for all.
No one will ever mistake this button-masher for the fine-tuned combo engine of classic tournament fighters. Final Fight One has a lot going for it, though, including a meaty backstory, compelling characters and, best of all, nonstop adrenalin-pumping action. And in what other game can you kick over a pile of tires to find a freshly roasted, health-replenishing chicken?
Available now, Final Fight One includes new scenes for each major character. Team up with a pal with a GBA Game Link cable and two Game Paks.
Game mode: single / multiplayer
Age restrictions Final Fight One: Good for all ages.
Final Fight One System requirements
Uses:
link-cable
additionally (GBA): link-cable