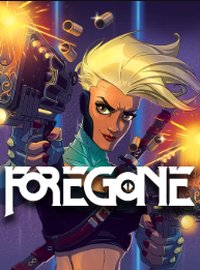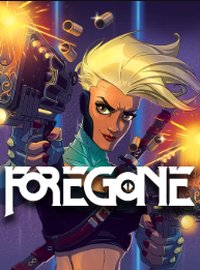 Foregone
Foregone is a platformer with looter shooter elements, emphasizing high level of difficulty. During the adventure, the player explores successive locations full of enemies and tries to discover the nature of the mysterious force that has visited his city.
Action | platform | RPG elements | 2D | indie games | side-scroll
Foregone is a game combining elements of platformer and looter shooter. The game is characterized by a high level of complexity and pixel art graphics. Big Blue Bubble is responsible for the production and release of the game. The studio is known for Burn The Rope and Fighting Fantasy: The Warlock of Firetop Mountain .
Plot
Foregone takes place in the city of Calagan, which was destroyed by the war years ago. The remains of the metropolis are besieged once again - this time by a mysterious force called Harrow, resurrecting the dead and evoking memories that should be forgotten.
During the adventure, the player assumes the role of the most powerful supersoldier in Calagan. His task is to investigate the origin of Harrow and save the city from destruction. The plot background is outlined in the story, which the main character brings closer as he moves through the levels.
Mechanics
Foregone is a side-scrolling game that combining elements of platformer and looter shooter. The key element of the game is to explore different locations. It takes very little time to pass each of them: between 5 and 10 minutes. These levels are filled with enemies, after defeating them we can raise their weapons (among them you can find a sword and a bow). Each of the available weapons has a different weight and attack speed.
In Foregone, the hero's abilities also play an important role. We develop them as the game progresses. Players have six development trees at their disposal; each of them affects a different aspect of aspect of weaponry. This allows you to adjust your character to your personal preferences.
The creators made sure that the game is distinguished by its high level of difficulty. This is manifested mainly in demanding clashes with enemies and randomness in the equipment received. In addition, there are also powerful bosses, which pose an additional challenge for the player.
Technical aspects
Foregone is a production that resembles Dead Cells in its graphic design. The game stands out from other games with simple, two-dimensional graphics made using the pixel art technique.
Game mode: single player
Expectations: 2.4 / 10 based on 10 votes.
Age restrictions Foregone: 12+
Foregone System requirements
Minimum:
Intel Core i3 2.5 GHz
4 GB RAM
graphic card 2 GB GeForce GTX 660 or better
Windows 7
Recommended:
Intel Core i5 3.0 GHz
8 GB RAM
graphic card 3 GB GeForce GTX 660 or better
Windows 7/8/10