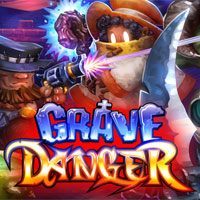 Grave Danger: The Ultimate Edition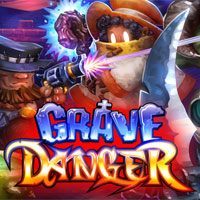 Game mode: single / multiplayer
Multiplayer mode: common screen, players: 1-3
Grave Danger is an arcade logic game published in 2016, with its mechanics and style evoking Blizzard Entertainment's well-known 90's title – The Lost Vikings. The Spotted Shark studio is responsible for the development of this game. The Ultimate Edition includes 10 additional levels, improves the user interface, and removes many of the bugs known from the original game.
Plot
The protagonist of Grave Danger: The Ultimate Edition is the friendly and charming Malice Mower, the mighty wizard Elliot, and Dante, the cunning cowboy who can cope with all sorts of problems. As a result of a dangerous combination of circumstances, all three are recognized as dangerous criminals and are being searched for by the authorities. The only way out seems to be to clear their good names, but it will not be easy in a world where almost everyone wants to catch them – alive or dead!
Mechanics
Grave Danger: The Ultimate Edition is a classic two-dimensional logical platform that brings to mind titles such as The Lost Vikings and Fury of the Furries. The game is based on crossing subsequent levels and solving simple logical riddles. The production prepared by Spotted Shark Studio allows players to manage three different characters, each with different skills and applications. For example, Elliot is able to make a double jump, shield friends, penetrate enemies and attack them with magical missiles. Dante, on the other hand, can make knocks and fast escapes, and he can also handle the revolver with incredible efficiency. The last character, Malice, has the ability to glide over vast chasms and launch spiritual bombs on enemies. Additionally, as befits the Mower, he is equipped with a deadly scythe, which can take the life of even several opponents at once. Grave Danger: The Ultimate Edition contains 30 levels spread across three different worlds. 20 of them come from the basic version of the game, while the remaining 10 were designed with the use of completely new mechanics (e.g. birds on which one can travel, turrets shooting with new types of missiles or rotating platforms) and with the use of puzzles of unknown so-far types. The user interface has also been redesigned and is now much more enjoyable and intuitive. The game allows you to play in single player mode or together with friends – collaboratively on one screen.
Technical aspects
Released on PC Windows Grave Danger: The Ultimate Edition features an ultra-colour, two-dimensional graphics that, while stylized for retro gaming, also gives the impression of today's production thanks to its higher resolution and nicely crafted models. The PC version features controller support and Big Picture mode for enjoying Steam games on your TV.
Similar games:
Age Rating
age requirements: 12+
System requirements
Minimum:
Intel Pentium 4 1.6 GHz
1 GB RAM
1 GB HDD
Windows 7