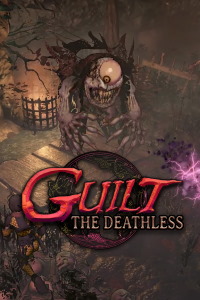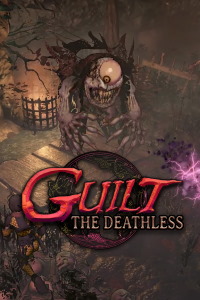 GUILT: The Deathless
PC
GUILT: The Deathless is a 3D hack'n'slash in which we explore a once fairytale land corrupted by creatures straight out of Slavic legends. In this game, death can rob us of our equipment permanently, and the actions of all players affect the game world for everyone.
RPG | TPP | hack'and'slash | roguelike | network | indie games | slavic mythology | soulslike
GUILT: The Deathless

Release Date PC

TBA
developer: Outer Brain Studios publisher: Outer Brain Studios Official website

game language: English
GUILT The Deathless is a dark action RPG (hack'n'slash) with a roguelike structure inspired by Slavic mythology, in which the world is shaped by players' decisions. It is the second game in the Outer Brain studio's portfolio after Organ Quarter, a survival horror released for VR devices.
Early access
GUILT: The Deathless entered early access on April 28, 2022 in a rather modest form. Only the first two acts with limited content were available to check out. Later updates introduced new features, such as party packs (which provide stat bonuses) and more options for players to influence the game world. There are also new equipment, regions and various gameplay mechanics.
Plot
GUILT: The Deathless takes us to a once fairytale land. However, when the action of the game began, this world was struck by a mysterious cataclysm, which distorted the entire area. Now it is overrun by beasts from Slavic myths, which the player has to deal with on command of the mysterious Koshchei.
Game mechanics
GUILT: The Deathless presents the world in isometric view, but apart from that the gameplay is similar to other games of the genre.
We start the game by creating our character, customizing his initial skills and appearance according to our own preferences. We travel through procedurally generated locations full of enemies, with whom we fight in real time. The whole may be associated with soulslike games: it is necessary to avoid or block the attacks of enemies, and it is very easy to die here. With time, we also gain better equipment and go to new places, which takes place in turns on the gradually revealed world map composed of hexes.
However, GUILT not only borrows from Souls series, but also develops their scheme. Although essentially a single player game, the world is also affected by the other players' actions. Like in Death Stranding, they can share equipment... or they can steal the goods of fallen heroes. The game has a permanent death system, and after death the heroes drop all their equipment, which can be recovered with a new character. Under the condition that we will not be warned by other players.
The influence of online features also manifests itself in the guilt system. Throughout the game, we make various decisions, such as whether to take the valuable sword of a freshly deceased person against his requests, or let him take it with him to the grave. Each choice can increase the guilt level of not only the character, but also the entire location, making it difficult for all players to cross it, reducing their stats and strengthening enemies. In addition, if we have not proven to be true to heart, Koschei will not give our character any chance to avoid permanent death.
There are no experience levels in GUILT. On the strength of the character affects only his equipment. Fortunately, unnecessary items and spells can be turned into dust, which can be used to create more powerful equipment.
Technical aspects
GUILT: The Deathless was built on the Unity engine, popular among independent developers. The graphics is fully 3D, although it rather does not shock with details and realism. Monsters' designs deserve attention, among which we can find not only typical fantasy creatures (undead, ghosts, etc.) but also more unusual beasts.
Game mode: single player
Age restrictions GUILT: The Deathless: 18+
GUILT: The Deathless System requirements
Minimum:
Intel Core i5-4590 or AMD Ryzen 5 1400
8 GB RAM
Nvidia GTX 970 / AMD Radeon R9 290
5 GB HDD/SSD
Windows 7 / 8 / 9