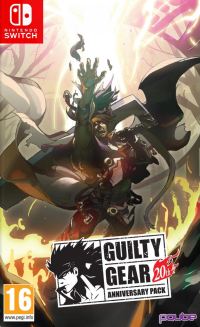 Game mode: single / multiplayer
Multiplayer mode: common screen

game language: English
game release date for Switch:
16May2019
Guilty Gear 20th Anniversary Edition is a package of two versions of a series of two-dimensional beats developed by the Arc System Works studio. The set includes the first game from the 1998 cycle and Guilty Gear XX Accent Core Plus R from 2013. Both productions were also released separately with the release of Guilty Gear 20th Anniversary Edition, with the older one also making its debut on PlayStation 4.
Plot
The action of both games in the Guilty Gear 20th Anniversary Edition takes place in an alternative reality in which humanity has discovered a potentially unlimited source of magical energy. One of the consequences of this discovery was the creation of the title Gears - magical beings, which over time began to be used as a living weapon. At some point there was a revolt of the Gears, led by the so-called Justice, defeated only after a hundred years of bloody fights.
First part of Guilty Gear takes place in 2180 and focuses on Gear's attempts to resurrect Justice by ordering him to call his Will. In response, mankind organised a tournament to find the strongest man who can overcome the danger.
Guilty Gear XX Accent Core Plus R builds on Guilty Gear XX and continues Guilty Gear X history. This time we follow the events connected with the activities of the Post-War Administration Bureau (P.W.A.B. for short), which show a disturbing interest in Gears and participants of the tournaments to date. As if that wasn't enough, a dangerous I-No, acting at the command of mysterious forces, enters the stage.
Mechanics
According to the convention of the genre, in both titles we observe the action from the side, and the fun comes down to rolling dynamic duels in two-dimensional arenas. We have ten warriors to choose from in Guilty Gear (plus three secret ones) and twenty-five in Guilty Gear XX Accent Core Plus R, characterized by a unique character and style of combat. Everyone has a large number of attacks, including complex combo launches and even immediate killings.
One of the characteristic features of the Guilty Gear series is a tension strap, which fills up as the opponent is blown over. When it reaches a certain value, we can use special attacks, and in the case of Guilty Gear XX Accent Core Plus R also use the so-called Roman Cancel, which allows warriors to take immediate action after an attack. Note, however, that too passive a game will cause a drop in tension, which promotes an aggressive style of play.
Game modes
Guilty Gear offers three gameplay modes that are characteristic of fighting: Arcade adventure, Versus multiplayer and training mode. Guilty Gear XX Accent Core Plus R adds further variants to this, such as Versus CPU, i.e. starting with a computer opponent. We will also find here a more extensive feature mode, continuing the threads from the original Guilty Gear XX. As part of it, we follow the fate of the selected hero, and even make decisions that will lead us to one of the several dozen endings. There is also the Mission mode, which comes down to duels with pre-imposed restrictions (for example, the player can't use the jump) and Survival (we fight with other enemies to the fallen or defeat the last opponent; on the way we develop our character). Medal of Millionaires is a variant of Survival, in which we receive special medals for performing spectacular combinations.
In addition, the newer of the two games offers additional attractions. In the interval between duels we can see unblocked endings and videos, as well as a gallery with graphics.
Technical aspects
Both titles use Guilty Gear 20th Anniversary Edition's two-dimensional visuals in manga styling, although the age difference between them is clearly visible. The main innovation is to adapt graphics to higher resolutions and widescreen displays. The sound of both productions draws attention - in Guilty Gear XX Accent Core Plus R the characters speak with Japanese voices, and in both games the clashes are accompanied by strong music, effectively warming up to fight.

Expectations: 10 / 10 calculated out of 1 players' votes.
Similar games:
PEGI Rating