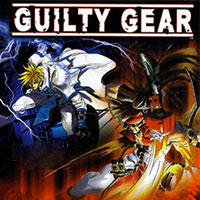 Guilty Gear is a classic brawl developed by Arc System Works. The production made its debut on PlayStation 1, and in the following years it also found its way to a number of other platforms, including desktop consoles, handhelds and personal computers.
Story
The story told in Guilty Gear begins in 2010, when people managed to discover an unlimited source of energy, which they quickly baptized as "magic". Thanks to it, civilization developed rapidly - one of the inventions was a living weapon known as "Gears", which over time turned against its creators, starting a global war. The Gears were headed by Justice, who managed to defeat them only after a hundred years of constant fighting, thus putting an end to the murderous zeal of the Gears. In this way we move on to the year 2180, when Gear, known as the Testament, plans to resurrect Justice and once and for all wipe humanity out of the face of the Earth. In order to put an end to his knitting, people organize a tournament - the winner will be given the task of defeating the Testament and restoring the old order.
Mechanics
On the PS4, PC, etc. platform. Guilty Gear action was shown from the side. During the game we take part in dynamic clashes, to which we can lead one of the ten heroes (their list is supplemented by three hidden characters); we talk about the knights of the holy order that faced the Gearom, as well as soldiers, members of the mafia or crazy scientists. Each player has a unique fighting style and special attacks; some also use weapons. The clashes take place in two-dimensional arenas, and in addition to a set of standard blows (fist hit, kick, weapon attacks) during the struggle we make use of special moves, headed by instant killings ending the round in a flash.
When fighting an opponent, two indicators should be closely monitored. Taking damage not only empties the life bar, but also charges so-called tension, which, when filled, makes the character stronger and can benefit from powerful Chaos Attacks. It is worth remembering that if a player's health drops to a critical level, he is surrounded by a red aura, and the Chaos Attacks he leads out are not limited in any way.
Game modes
Guilty Gear has three gameplay variants, the most important of which is the Arcade Mode single player; it is here that we get to know the motivation of each player and follow the story. In addition, there is a multiplayer Versus Mode (available on stationary consoles and PCs) and a training mode in which we can learn the fighting style of each hero.
Technical issues
Guilty Gear's graphics are in manga style. Compared to the original, its later conversions did not introduce major changes in the audio-visual setting - the whole was adapted only to operate at higher resolutions and to work with widescreen displays.
Please let us know if you have any comments or suggestions regarding this description.
Age Rating
age requirements: 12+
System requirements
PC / Windows
Minimum: Intel Core i3-4005U 1.7 GHz, 4 GB RAM, graphic card Intel HD or better, 1 GB HDD, Windows 7/8.1/10 64-bit