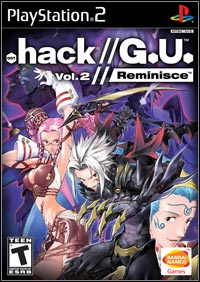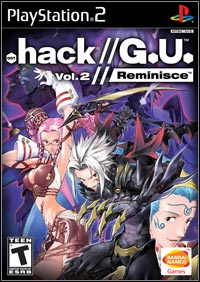 .hack//G.U. Vol.2//Reminisce
PS2
.hack//G.U. Vol.2//Reminisce is the second part of the trilogy about Haseo's adventures in the virtual world of the MMORPG known as The World. This is a quite unusual action RPG game, because its action takes place on two completely different planes.
.hack//G.U. Vol.2//Reminisce

Release Date PS2

08May2007
developer: CyberConnect2 publisher: Bandai Namco Entertainment Official website

game language: English
* Epic Story –Breathtaking movies and a dramatic, twisting storyline help to reveal the true motives of other characters!
* New Fighting Mechanics– Change weapons on the fly when fighting as Haseo Upgraded Battle system- Utilize a new "Awakening" power, and master new fighting styles added to Avatar Battles!
* More Exciting Fisticuffs – Compete in the second tier of the Arena Battles to become the Holy Palace Emperor, and fight in more Avatar Battles!
* Crimson VS Card Game – Assemble the perfect deck and play the new Crimson VS Card Game!
* Steam Bike – Earn items by completing Steam Bike Missions and customize your Steam Bike!
* Make New Friends – New potential party members added to your roster, so you can hunt monsters with more of your favorite characters!
Last updated on 11 January 2008
Game mode: single player
Media type: 1 DVD
Age restrictions .hack//G.U. Vol.2//Reminisce: 12+
.hack//G.U. Vol.2//Reminisce System requirements