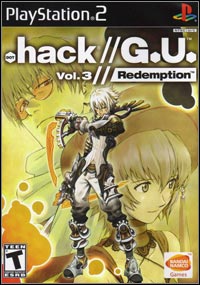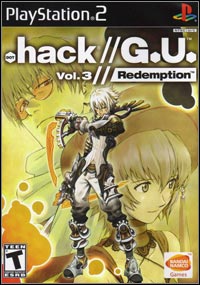 .hack//G.U. Vol.3//Redemption
PS2
In .hack//G.U. Vol.3//Redemption we once again play the role of Haseo, a young boy playing in a futuristic online MMORPG called The World. The plot of the game begins shortly after the second part of the trilogy, Reminisce.
.hack//G.U. Vol.3//Redemption

Release Date PS2

10September2007
developer: CyberConnect2 publisher: Bandai Namco Entertainment Official website

game language: English
* Is this really the end? - All questions from the series will finally be answered!
* Enhanced Battle system – Haseo and his Avatar evolve into new forms and utilize new, more powerful attacks.
* New Awakenings – Haseo gains a new Awakening power to deal out more damage to his enemies.
* New Arena battles-Conquer the final tier of the Arena Battles to become the Sage Palace Emperor!
* New locations – Investigate two new root towns and two new dungeons, as well as a massive hundred level dungeon unlocked after you beat the game called the Forrest of Pain.
* Steam Bike – All new parts to customize your steam bike and five new steam bike missions
* The Best of Friends – Choose from 22 different characters to join your party.
* New Crimson VS cards – step up the card battle action with all new cards.
Last updated on 11 January 2008
Game mode: single player
Media type: 1 DVD
User score: 7,1 / 10 based on 36 votes.
Age restrictions .hack//G.U. Vol.3//Redemption: 12+
.hack//G.U. Vol.3//Redemption System requirements