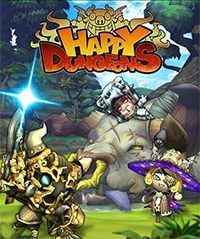 Game mode: single / multiplayer
Multiplayer mode: Internet / common screen, players: 1 - 4
Happy Dungeons is a fantasy hack-and-slash RPG focused on cooperation play. The title is available on PS4 and XONE and it uses free-to-play distribution model. It was developed by Japan studio Toylogic, creators of Happy Wars – a game from 2012 that used similar graphics style.
Plot
Happy Dungeons for PS4 and XONE has a simple and rather typical plot. The game takes place in a fantasy realm that drifts someplace underneath the sky. Evil monsters kidnapped the princess. In the wake of the tragedy, the king can count only on help of his best and fearless knights, the roles of which are assumed by the players.
Mechanics
The game is a dynamic, third-person perspective hack-and-slash action RPG. The action is shown from third-person perspective and the objective of the game is to complete various quests that mostly consist in eliminating the encountered monsters. Among the opponents there are legions of weak creatures and slightly more challenging bosses. Each player takes control of one of the available characters which – since it is an RPG game – have different fighting styles and variety of special attacks and combos. As the game progresses, one can develop and modify his character with a variety of options that allow changing not only the look and abilities, but personality as well.
Game modes
Happy Dungeons for PS4 and XONE is a title focused mostly on cooperation mode for up to four players who can play it together both through Internet and on a single console.
Technical aspects
The graphics of Happy Dungeons for PS4 and XONE use similar style as its predecessor that was released a few years earlier. The fully three-dimensional, simple graphics has intense colors and cartoonish, grotesque characters. What's worth mentioning is the fact that players that play both Happy Dungeons and Happy Wars will receive various bonuses.
Similar games:
PEGI Rating
System requirements
Uses:
PlayStation Network