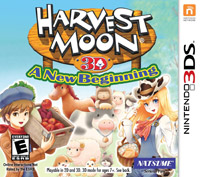 Harvest Moon: A New Beginning
3DS
The next installment of a popular series of games about farmer's life, prepared by Natsume studio. The 3DS version contains several new features never before seen in Harvest Moon, such as the possibility of freely shaping the appearance of the hero and his farm.
RPG | Economic | farm | life Simulator | jRPG | Nintendo exclusive titles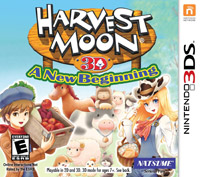 game language: English
game release date for 3DS:
23February2012
Studio Natsume, famous for its Harvest Moon series, has prepared the next part with 3DS users in mind. This time the authors introduced a number of changes to the system and allowed for the first time to create their own hero and influence the appearance of his flat and the whole farm.
The storyline of the game tells the story of a young farmer who ends up in Echo Village, which has had its best years behind him. The village has already been abandoned by most of its inhabitants, who have moved to more fertile lands. Now the player's task is to restore the settlement to its splendour and convince them to return. In order to accomplish this, he must create a prosperous farm and with the help of means earned from animal husbandry and vegetable cultivation he must rebuild a slightly neglected town.
The unique element of A New Beginning, which distinguishes this production from the previous games in the series, is the ability to change the appearance of the hero and modify the shape of his farm. The authors provided an extensive character editor, where everyone can create their ideal farmer, determining their gender, skin colour, hairstyle and facial appearance, as well as freely deciding on their working clothes. Contrary to many previous versions, in this part of the game players can also choose what shape their farm should have, how large the field should be and where the farm buildings should be located.
The authors also added several new animal species, including llamas and yaks, as well as new plants for cultivation. Once again, fans of the series also have the opportunity to start a family with one of the chosen people from the town and wait with her offspring. In the game there are also mini-games, consisting of searching for mushrooms, fishing or participating in harvest festivals, where various competitions are held. The hero can also take a break from work during the year and go on holiday to one of the five resorts.
All characters in the game have their own three-dimensional models and hand drawn images, which are displayed during conversations. The style of the game refers to the series anime. Harvest Moon: And New Beginning also allows you to communicate with other game fans via Wi-Fi.
Please let us know if you have any comments or suggestions regarding this description.
Similar games:
Age Rating
age requirements: 12+