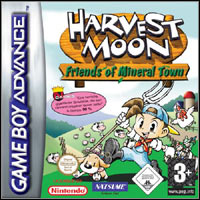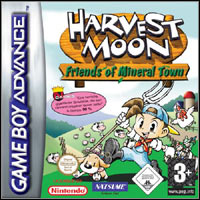 Harvest Moon: Friends of Mineral Town
GBA
Harvest Moon: Friends of Mineral Town is a jRPG game, which is an adaptation of a hit released earlier for PlayStation - Harvest Moon: Back to the Nature. The player directs the actions of the hero, who unexpectedly inherits the farm, and his task is to bring them to bloom.
RPG | Economic | farm | life Simulator | jRPG | Nintendo exclusive titles
Harvest Moon: Friends of Mineral Town

Release Date GBA

17November2003
developer: Natsume Inc. publisher: Natsume Inc. Official website

game language: English
Part strategy and part communication game, Harvest Moon: Friends of Mineral Town puts you in the role of a small-town farmer. As you work through the game, you'll grow crops, make friends, start dating and more. A strong sense of style and an amazing open-endedness make Harvest Moon an extreme pleasure to play -- and work!
Features
* Control your own destiny! It's up to you how to run your farm. Slack off if you'd like, or work hard and see the fruits of your labor.
* Plant a variety of different crops like turnips, potatoes, cabbage, cucumbers, pineapples, green peppers, sweet potatoes and eggplants.
* Fill your farm with friendly -- and profitable -- animals by raising chickens, sheep and cows.
* Live a lonely bachelor's life or court one of five young women living in town.
* Connect with the Nintendo GameCube version of the game to unlock new events, new games and more.
The farm is your base of operation in Harvest Moon. It's where you live, sleep and work -- assuming you choose to work, that is. Once your farm is up and running, the money will come pouring in, allowing you to expand the business and acquire new kinds of fruits, vegetables and livestock.
Making money is all well and good, but it won't mean anything unless you have friends to share the good times. There are more than 40 characters in Harvest Moon: Friends of Mineral Town (including a large band of gnomes). If you want to get the most from the game, you'll have to spend time talking to people, participating in events and giving gifts to your neighbors.
Bottom Line
Harvest Moon: Friends of Mineral Town expands on the popular Harvest Moon concept, while still delivering the basic gameplay which has made the series so successful. If you aren't a diehard fan yet, take the opportunity to discover the series and see what all the fuss (and fun!) is about.
Last updated on 10 December 2007
Game mode: single player
User score: 8,5 / 10 based on 637 votes.
PEGI rating Harvest Moon: Friends of Mineral Town