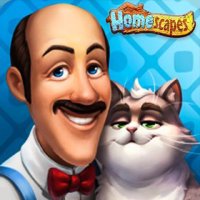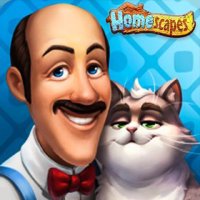 Homescapes
Homescapes is a match-3 game in which we deal with the renovation of the main character's parents' house. By solving puzzles consisting in matching colorful symbols, we gain money to buy new furniture or repair damaged equipment.
Homescapes is a match-3 puzzle game developed by the Russian studio Playrix. The game is a spin-off of the Gardenscapes: New Acres and is distributed in a free-to-play microtransaction model.
Plot
The main character of Homescapes is Austin, who one day decides to visit his parents. On the spot, it turns out that his family home has fallen into ruin and will soon be put up for sale. The protagonist immediately gets to work and does everything in his power to restore the place to its former glory. He hopes that in this way he will be able to rekindle his parents' love for the house and thus convince them to abandon their plans to sell it.
Mechanics
Homescapes is divided into two segments. In the first one, based on match-3 rules, the game takes place on a board divided into square fields where coloured symbols appear. By combining three (or more) identical images next to each other, not only do we gradually get closer to victory, but we also provide ourselves with a variety of power-ups that make gameplay easier. Among them we can find an airplane capable of clearing the chosen field or a ball removing all symbols of a given colour from the board. They are useful because, over time, various obstacles appear on the boards making the game difficult.
In return for further winnings, we receive coins and stars, which we allocate to the renovation of Austin's parents' house. This is also the second segment of the game. Observing the hero in an isometric view, we interact with other residents and elements of equipment of individual rooms, which we gradually replace with new ones. From time to time we also have to deal with various breakdowns, such as a burning gas kitchen or a leaking aquarium. In addition, nothing stands in the way of using the stars you have won to buy various decorations.
Technical aspects
The graphic design of Homescapes has been maintained in the colourful and cartoon-like style, known from the previous work of the Playrix studio. The game also boasts a simple, intuitive interface.
Game mode: single player
App size:
Age restrictions Homescapes: Good for all ages.
Homescapes System requirements
Additional information:
Internet connection is required.
Additional information:
Internet connection is required.