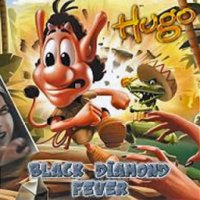 Hugo: Black Diamond Fever
The witch Scylla has obtained a very dangerous recipe for which she needs rare black diamonds. The brave Hugo must now release the Kikurian and prevent the production of the Scylla elixir.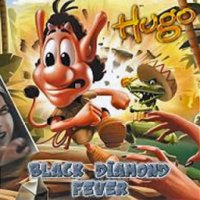 Following the international success of the Hugo series for PlayStation, the always charming and energetic troll, Hugo, is at it again with the dramatic new action-game Hugo - The Black Diamond Fever - also released on PC CD-ROM and Game Boy Color.
Since Hugo solved The Quest for the Sunstones, the Kikurians have lived in peace. But Scylla is back with evil plans. Can Hugo help the Kikurians and stop Scylla before it is too late ? It is all up to you in this new game packed with cool game play, great graphics, action and adventure.
Hugo - Black Diamond Fever
Scylla the witch is back again, and this time she has in her possession the
formula for supreme evil. She needs the rare black diamonds for her formula - and they are only to be found on Jungle Island where the Kikurians live. With Don Croco´s help, she captures all the wretched Kikurians and forces them to toil in the mines, day and night.
This is where the player enters the story. The player must help Hugo free the Kikurians and stop the production of Scylla´s evil potion.
On Jungle Island you have to watch out for all the dangers on the island. Don Croco has stationed his soldiers all over the island to keep the Kikurians enslaved, to avoid that strangers enter and that they stop the production of Scylla´s Black Diamond Juice.
Through more than 12 different new environments you will see a new side of the well known Jungle Island, and discover a tightly intertwined plot and game play, that will ensure you several hours of action-packed fun with Hugo, friend and enemies.
Age Rating
age requirements: everyone
System requirements
Recommended:
Pentium II 300MHz
64MB RAM
graphic card