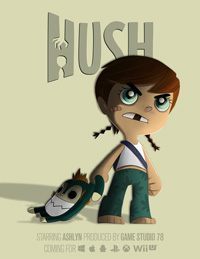 Hush
An episodic action-adventure game which is the debut project of a Portuguese developer Game Studio 78. Hush tries to approach numerous human fears and anxieties – those which human beings are subject to during their childhood, and those that we experience everyday.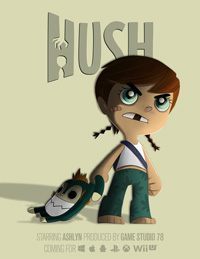 Hush for PC, XONE and etc. is an episodic action-adventure game that is a debut project of a Portugal developer - Game Studio 78. The game tries to tell a story about various human fears and concerns – including those to which a human being is subjected in his childhood, as well as those that touch us everyday. The team was mainly inspired by games such as Alice: Madness Returns, as well as literature and movies. Hush was funded as a result of a crowdfunding campaign in IndieGoGo.
Plot
Each of the episodes consists of three separate chapters, focusing on typical human fears. The first episode is dedicated to darkness, lightning, and ghosts. The further chapters will be focused, among others, on clowns, spiders, or acrophobia.
Fear of the Dark allows us to take control of a girl named Ashley who is searching for a way out of an abandoned orphanage, "armed" only with her favourite stuffed companion. While traversing the dark corridors, we have to hide in lit locations that will guard us from a blind monster named Garma. The conclusion of the chapter pits us against a mysterious shadow master who is portrayed as a mischievous cat. The following chapter, Fear of Thunder takes place during a thunderstorm in a power plant, invaded by mechanical beings that feed on energy, while Fear of Ghosts pits us against a brooding evil lord and his ghostly retainer.
Mechanics
The gameplay mechanics are similar to typical action-adventure games, and focus on exploration, puzzle solving, and occasional combat. However, the developers introduced a number of their own ideas. First, they've decided to remove conventional weapons in favor of mascots which have different properties and force a different strategy on the player – in melee range, as well as in ranged combat. The second innovation is introducing a special courage meter that fills up as the action progresses. If it's high enough, our hero can face even the toughest opponent, otherwise, we have to flee.
Technical Aspects
Hush is powered by Unity, a popular engine that guarantees high quality visuals regardless of the hardware platform. Cross-platforming capabilities are its additional highlight, allowing the players to save their state in the cloud and proceed on a different device. Hand-drawn visuals have a cartoon feel, and a characteristic grim atmosphere of a world of fears and anxieties. Climatic soundtrack also adds to the overall feel, with a lot of mysterious whispers and unidentified sounds. The developers introduced a special algorithm that manipulates the music depending on the current events and the hero's fear level.
Age Rating
age requirements: everyone
System requirements
PC / Windows
Minimum: Intel Core 2 Duo 2.8 GHz, 4 GB RAM, graphic card 1 GB GeForce 9400 GT/Radeon 5450 or better, 2 GB HDD, Windows 7/8/8.1