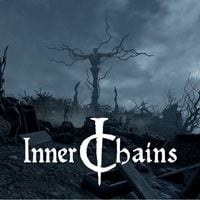 Inner Chains for PC, PS4 and XONE is a first person shooter horror. It is the debut of the Warsaw-based Telepath's Tree studio, created by able game designers from the Polish video game industry, formerly employed by companies such as CD Projekt RED, People Can Fly or Flying Wild Hog.
Story
The game brings the players to a terrifying world of bio-mechanics, that constantly forces them to fight for their lives. All the locations were designed to make the player feel anxious and lost. The locations also are a part of narration, since most of the plot is revealed during the exploration, and the game feeds the player with small chunks of the story, scattered around the world.
Gameplay
Inner Chains for PC, PS4 and XONE is a classic first person perspective game. The gameplay consists largely of exploration and combat. The levels are open to a large degree - they are designed to have multiple ways of reaching the objectives. We receive an equal amount of freedom when it comes to weapon selection. Different elements of the environment are especially useful in neutralizing our enemies.
Technical aspects
Inner Chains for PC, PS4 and XONE utilizes Unreal Engine 4, offering pretty, three-dimensional graphics. Level design and character models were inspired mainly by works of a Polish artist, Tomasz Strzalkowski.
System requirements
PC / Windows
Recommended: Intel Core i3 3.5 GHz/AMD FX-8350 4.0 GHz, 8 GB RAM, graphic card 3 GB GeForce GTX 970/4 GB Radeon R9 380 or better, 15 GB HDD, Windows 7(SP1)/8.1/10 64-bit
Minimum: Intel Core 2 Duo 2.8 GHz/AMD Phenom II X4 3 GHz, 4 GB RAM, graphic card 1.5 GB GeForce GTX 770/Radeon HD 7770 or better, 15 GB HDD, Windows 7(SP1)/8.1/10 64-bit