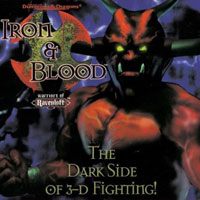 Iron & Blood: Warriors of Ravenloft
Bijatyka developed by Take-Two Interactive, which takes us to the world of Ravenloft. In Iron & Blood: Warriors of Ravenloft we find ourselves in the middle of a conflict between the forces of order and chaos, whose aim is to conquer ancient artifacts.
Fighting | fantasy | Dungeons & Dragons | multiplayer | for 2 people | co-op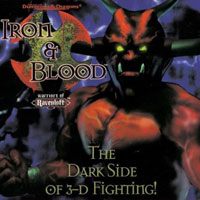 Game mode: single / multiplayer
Multiplayer mode: common screen
Iron & Blood: Warriors of Ravenloft is a brawl developed by Take-Two Interactive. The production was released by Acclaim Entertainment on the PC and PS1 platforms.
Story
Iron & Blood: Warriors of Ravenloft has been set in the title Ravenloft, the darkest and most dangerous world of Advanced Dungeons & Dragons universum. Players find themselves in the middle of a war waged by the forces of order (led by the ancient vampire Strahd von Zarovich) and chaos (led by Lord Soth), whose aim is to conquer powerful artifacts.
Mechanics
The foundation of the gameplay in Iron & Blood, released on the PC and PS1 platform: Warriors of Ravenloft arena clashes between heroes (Luthor, Darius, Torgo, Erland, Ignatius, Red Cloud, Xenobia, Shinesta) and villains (Ardus, Balok, Stellerex, Kaurik, Sasha, Urgo, Nym Pymplee, Balthazaar); their list is supplemented by four bosses, namely Tantalus, Magog, Belial and Lord Strahd.
In addition to the standard set of strong and weak blows and dodges, each player has special attacks, which are unlocked by winning the duels; in addition, in the course of the struggle, warriors advance to the next levels of experience, which increases their combat potential. Not without significance are also the above mentioned artifacts, which hit our hands when we meet certain conditions; they provide special powers - for example, Ring of Teleportation moves the competitor to any place, +4 Ring of Protection provides increased resistance to injury, Ring of Invisibility makes the competitor invisible, while Tempest allows to summon storm clouds that hurt the opponent with lightning.
Game modes
Iron & Blood: Warriors of Ravenloft has several gameplay variants. We get to know the rules of the struggle in the training mode, while the second player or player controlled by Artificial Intelligence can be measured in the Head to Head module. In addition, the title contains a feature campaign (Campaign Mode), which can be played in the company of another person or AI.
Technical issues
Released on PC and PS1 platform Iron & Blood: Warriors of Ravenloft has 3D graphics; character animations were made using motion capture technique. What's interesting, the title was initially supposed to hit also 3DO M2 and Sega Saturn consoles.
Please let us know if you have any comments or suggestions regarding this description.
Age Rating
age requirements: 16+