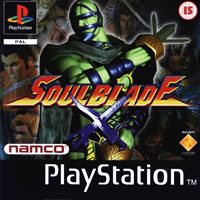 Game mode: single / multiplayer
Multiplayer mode: common screen, players: 1 - 2
game release date for PS1:
01January1997
Soul Blade (originally published in Japan as Soul Edge) is a three-dimensional fighting game published by Namco (now Namco Bandai). The title focuses on spectacular duels between warriors using various weapons. The popularity of the game spawned a new frachise - the popular Soul Calibur series.
Story
The game tells the story of brave warriors who travel the world in search of Soul Edge, the legendary sword that gives great strength. Over the years, many have tried to get it, but only a few have managed to do so. Some want it for power, others want it to take revenge for the wrongs they have suffered. Some believe that it will help them to do good, and there are those who want to destroy the weapon, believing that it is a tool of evil.
Mechanics
RThe game is a fully three-dimensional fighting game, in which two warriors equipped with melee weapons take part. Characters can move around the arenas in all planes, but the battlefields are limited in size. They are surrounded by a chasm or water, and a ring out ends with an instant defeat - regardless of the state of the life bar.
The combat system, in terms of fluidity of character movement, resembles another popular series of fighting games created by Namco, Tekken. In Soul Blade, however, the buttons are not responsible for the warriors' individual limbs, but for horizontal and vertical attacks with weapons, kicks and blocking, respectively. The characters have a wide range of different attacks, additionally they can hold weapons with different statistics.
An important feature of the game is the weapon strength bar, which is shortened every time a player blocks enemy blows or performs the most powerful attacks. When the condition of the weapon is reduced to zero, the weapon shatters and its owner is forced to continue the battle, relying solely on the strength of their hands and legs.
Play modes
In addition to standard gameplay modes such as Arcade Mode and Survival Mode, Soul Blade offers a special story mode, called Edge Master Mode. In this mode, a character selected by the player travels around the game world in search of the Soul Edge, gradually learning more and more about the story, fighting fierce battles and gaining new weapons.
Technical aspects
Soul Blade was one of the most beautiful titles on the market at the time of release, impressing with carefully modelled characters and detailed backgrounds. The soundtrack filled with oriental accents has also gained the critic and player recognition.

Game score 5.8 / 10 calculated out of 29 players' votes.
Similar games:
Age Rating
age requirements: 12+