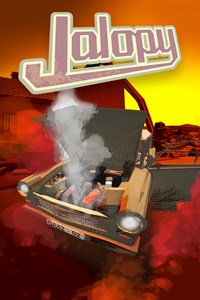 Jalopy is a simulation game for PC in which we traverse the world behind the wheel of a fictional car, Laika 601 Deluxe, modeled after the cult Trabant. It was developed by Minskworks, a studio established by Greg Pryjmaczuk, a Belarussian developer who worked on the F1 series between years 2009 and 2014. Jalopy was published by Excalibur Publishing, known mostly for a wide portfolio of various simulation games, headed by the bestselling SCS Software's productions (Euro Truck Simulator 2, American Truck Simulator).
Plot
The action takes place at the turn of the 80s and 90s of the last century, when many ordinary citizens from the former communist bloc want to take advantage of the opportunities offered by Western European capitalism. In the game, we sit behind the wheel of the fictional Laika 601 deluxe, modeled after one of the most cult vehicles of the communist period – the famous East German Trabant. Our task is to traverse Eastern European countries and make various "deals of our life" that will allow us to grow rich quickly and become a true king of fledging capitalism.
Mechanics
In Jalopy, we can quite freely traverse a vast procedurally generated world that doesn't recreate any particular region of Europe but is quite clearly inspired by the grim image of postcommunist Eastern Europe. Our task is to transport various kinds of goods that bought for next to nothing in one part of the world can be solid with great profit in the other. Since the laws in force at borders are pretty merciless, we'll have to resort to smuggle quite often and even hide from law enforces patrolling roads.
Apart from the abovementioned economic aspect, Jalopy for PC is also a full-blown simulation game that makes us responsible for nearly all elements connected to our vehicle's functioning. Our responsibilities include not only regular refueling but also taking care of the condition of the tires, the efficiency of the engine and other mechanical parts, or the weight of the load in the trunk. Laika 601 Deluxe initially is a typical jalopy (as the title suggests) so our task will also involve performing a number of uncomplicated repairs, among other things. As we progress, we unlock additional enhancements that allow us to transform our care into a true "rocket". Moreover, taking care of the driver's condition and regular regeneration in roadside motels is equally important.
Technical aspects
Jalopy for PC stands out from among other simulation games with its old-school vector graphics with rather uniform, brown colors that emphasize the grim atmosphere of postcommunism. Despite that approach, the developers made sure to implement some enjoyable details such as various terrain modes, changing weather, and a dynamic day-and-night cycle.
Similar games:
Age Rating
age requirements: 12+
System requirements
PC / Windows
Minimum: Intel Core i3 2.0 GHz, 4 GB RAM, graphic card 1 GB GeForce GTX 460 / Radeon HD 7700 or better, 2 GB HDD, Windows 7/8/10 64-bit