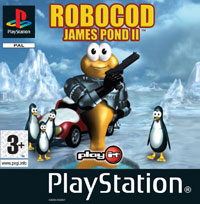 James Pond 2: Codename RoboCod
PS1
Remaster of a production published in the early nineties for Amiga, Atari and Sega Genesis. The refreshed version of the 2D platformer offers a better audio-visual setting, other level projects, as well as some changes in the storyline.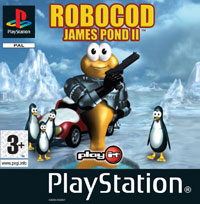 game language: English
game release date for PS1:
10December2003
A new version of the platform game James Pond 2: Codename RoboCod, prepared by Gameware Development, which was originally released in 1991 for Amiga, Atari ST and Sega Genesis. The title is a continuation of the game from 1990, which was a parody of a film series about the adventures of James Bond.
Story
The story continues the threads presented in the previous part of the series. The evil Doctor Maybe escapes with his life to the North Pole. There, he takes hostages from among Santa Claus' toy workshop workers, turning some of them into mindless slaves. An anthropomorphic fish agent James Pond must undertake another risky mission. Its aim is not only to save Santa's employees captured by the mad scientist, but also to recover stolen presents for children. The task is to be facilitated by a special metal armor, which significantly increases Pond's natural abilities.
Mechanics
James Pond 2 is a two-dimensional platform game, in which the players will face a number of arcade challenges. The title hero is not equipped with any weapons and eliminates enemies he encounters by jumping on them. A unique element of the game is the hero's ability to stick to ceilings and stretch over long distances, which enables him to deal with some obstacles and influences map design.
The segments in which James Pond uses various types of vehicles add variety to the game. He can sit at the helm of a car and a boat. The hero also has hidden power-ups at his disposal at every level, which provide him with additional life or enable him to fly.
Technical aspects
This PS1 remaster offers slightly better graphics, with colorful backgrounds and character designs. The game features characteristic cartoonish style and employs a humorous formula, serving many references to pop culture and cinema hits. The PS version is distinguished by the unique map designs, as well as a few cosmetic changes in the plot, such as the way of presenting Santa Claus' employees.
Similar games:
Age Rating
age requirements: 12+