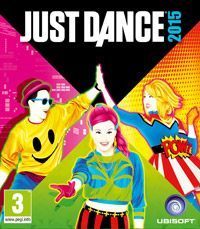 Game mode: single player
Multiplayer mode: common screen
Just Dance 2015 is the next edition of an extremely popular dance game series that let players feel like professional dance-pop artists, appearing on the world's biggest stages. As usually, the game was created by internal developer studios of French company Ubisoft. The game uses motion controllers specific to each platform (Kinect, Move or Wiimote).
Basic game mechanics remained unchanged. Players have to imitate moves of the onscreen dancers. The system evaluates your performance and style and gives you an appropriate score. Just Dance 2015 includes dozens of pop songs, some of which are classics, while others are the last year's biggest hits.
Just Dance 2015 offers a range of social features and multiplayer mode.
Here is the full list of songs included in the game:
"Bang Bang" - Jessie J, Ariana Grande & Nicki Minaj
"She Looks So Perfect" - 5 Seconds of Summer
The "problem" - Ariana Grande Ft. Iggy Azalea and Big Sean
"4 × 4" - Miley Cyrus
"Best Song Ever" - One Direction
"Happy" - Pharrell Williams
"Till I Find You" Austin Mahone
"Addicted To You" - Avicii
"Black Widow" - Iggy Azalea Ft. Rita Ora
"Maps" - Maroon 5
"Birthday" - Katy Perry
"Bad Romance" - Lady Gaga
"Built For This" - Becky G
"Holding Out For A Hero" - Bonnie Tyler
"Summer" - Calvin Harris
"Tetris" - Dancing Bros.
"You Spin Me Round (Like A Record)" - Dead Or Alive
"Let It Go" - Disney's Frozen
"Burn" - Ellie Goulding
"Bailando" - Enrique Iglesias Ft. Descemer Bueno Gente de Zona &
"Mahna Mahna" - Frankie Bostello
"Never Can Say Goodbye" - Gloria Gaynor
"I Love It" - Icona Pop Ft. Charli XCX
"You're On My Mind" - Imposs Ft. J. Perry
"Love Me Again" - John Newman
"Only You (And You Alone)" - Love Letter
"Is not No Mountain High Enough" - Marvin Gaye and Tammi Terrell
"Get Low" - Dillon Francis & DJ Snake
"Diamonds" - Rihanna
"Me And My Broken Heart" - Rixton
"Walk This Way" - Run-DMC & Aerosmith
"Do not Worry Be Happy" - The Bench Men
"Epic Sirtaki" - The Bouzouki's
"Speedy Gonzalez" - Los Locos Pimientos
"Macarena" - The Girly Team
"Love Is All" - The Sunlight Shakers
"It's My Birthday" - will.i.am Ft. Cody Wise
"The Fox (What Does the Fox Say?)" - Ylvis
"XMas Tree" - Bollywood Santa
"Fatima" - Cheb Salama
Similar games:
PEGI Rating
System requirements