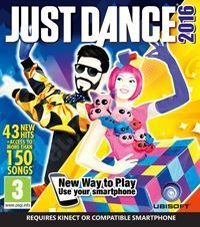 Game mode: single / multiplayer
Multiplayer mode: common screen
Just Dance 2016 for PS4, X360 and etc. is another installment of the popular dancing game series. It introduces the Just Dance Controller application that makes, for example, the Kinect camera no longer required — instead, a smartphone held in our right hand will do. Moreover, the Just Dance Unlimited platform debuted with the production. It is a streaming service that allows players to get more songs to dance to.
Mechanics
The gameplay still boils down to dancing to the rhythm of the music. Additionally, the game displays video clips with dancers who show us the moves. The key to success is to recreate the choreography as faithfully as possible. The title received an updated tracklist that includes such songs as:
Uptown Funk - Mark Ronson Ft. Bruno Mars
Born this Way - Lady Gaga
Hey Mama - David Guetta Ft. Nicki Minaj, Afrojack and Bebe Rexha
All About that Bass - Meghan Trainor
Iavan Polkka - Hatsune Miku
Animals - Martin Garrix
Hangover (BaBaBa) - Buraka Som Sistema
I Gotta Feeling - the Black Eyed Peas
Let's Groove – Equinox
Stars Blame - Calvin Harris ft. John Newman
William Tell Overture – Rossini
Want to Want Me - Jason Derulo
The above is but a part of the full track list that includes not only song for solo play but also ones to be danced to in duets and some even allow a group of people to perform together.
Similar games:
PEGI Rating