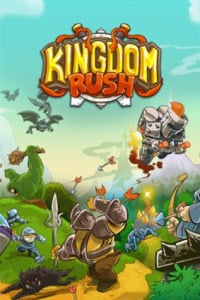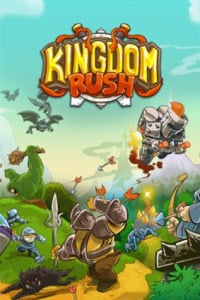 Kingdom Rush
A tower defense game requiring the player to defend a position against attacking fantasy creatures. The game was created by Ironhide - an independent developer. Kingdom Rush is set in a classic fantasy world filled with magic, orcs, knights and giants.
Strategy | fantasy | play for free | tower defense | 2D |
Kingdom Rush
Release Date
Kingdom Rush for PC, AND and etc. is a classic tower defense game, considered one of the best in the genre by many players. The player's goal here is to defend themselves against different kinds of enemies attacking - goblins, spiders or dark knights. Kingdom Rush was created by Ironhide Game Studio - an independent, Urugwayan developer.
Mechanics
The game is set in a classic fantasy world resembling the medieval period. Thus the player fights orcs, knights or giants, using mainly archers and cannons. Also, the game world does not lack magic, which is here for the player to use as well.
As befits a classic representative of the tower defense genre, the player's mission in Kingdom Rush for PC, AND and etc. is to defend the base against subsequent, gradually more powerful enemy waves. The enemies try to cross the player's line of defense constantly - they take pre-defined paths, which has to be taken into account when planning further actions. The player makes use of four typical buildings when protecting the base - a tower for archers, a magic academy for sorcerers, artillery posts causing damage as ranged weapons, as well as the barracks generating soldiers who neutralize the enemies directly on their path. Eliminating the attackers generates income here, which can be spent on extending the player's line of defense through adding subsequent towers or upgrading those already existing, which makes them cause more damage. When the situation gets worse, apart from being able to count on buildings, the player can also use spells allowing to weaken or even kill hordes of enemies.
Completing subsequent maps earns the player a prize in the form of golden stars. Depending on how successful the player was in defending themselves on a given map, they earn from one to three of such stars. Each of the in-game challenges can be re-approached multiple times until they manage to score the highest number of stars. The stars allow the player to strengthen towers and make spells more effective for example.
Kingdom Rush for PC, AND and etc. offers eye-pleasing, colorful and detailed visuals, which is definitely a great advantage of the game. Character models, backgrounds and maps were all designed with great care and make a successful mixture with the classic fantasy atmosphere the game offers.
Last updated on 25 January 2023
Game mode: single player
Age restrictions Kingdom Rush: Good for all ages.
Kingdom Rush System requirements
Recommended:
Core 2 Duo 2.0 GHz
1 GB RAM
graphic card 512 MB (GeForce 8800 GTS or better)
1.5 GB HDD
Windows XP SP3/Vista/7/8