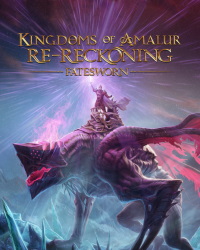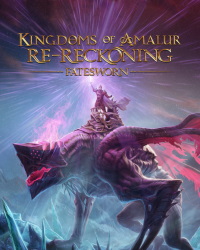 Kingdoms of Amalur: Re-Reckoning - Fatesworn
Add-on to the action RPG from 2020. In Kingdoms of Amalur: Re-Reckoning - Fatesworn we go to the frozen west of Amalur where we have to face the god of chaos - Telogrus. Add-on introduces new locations, quests, equipment and mechanics.
RPG | TPP | fantasy | action RPG
Fatesworn is an expansion to the action RPG Kingdoms of Amalur: Re-Reckoning, released in 2020 (which in turn was a remastered version of Kingdoms of Amalur: Reckoning, which was over eight years older). The add-on was developed by the authors of the basic version of the game, a small team called Kaiko.
Plot
Fatesworn is set after the events presented in Kingdoms of Amalur: Re-Reckoning. The story told in it is a culmination of the plot begun in the base game. The great war is over, but the inhabitants of the land of Amalur didn't enjoy peace for too long. It turned out that in the west, on the ice-covered lands of Mithros, a new threat was born. Telogrus, the god of chaos, has awoken there and is gathering a large army to plunge the world into anarchy. The task of thwarting his plans rests on the shoulders of the main hero, who as the title Fatesworn will once again stand in defense of the land of Amalur.
Game mechanics
Kingdoms of Amalur: Re-Reckoning - Fatesworn gives us a new area - the frosty land of Mithros - where we can find, among others, snowy mountain peaks, small villages and the city of Crownhold located on the shore of a lake. There are also two new dungeon sets waiting to be plundered, as well as 25 dungeons that can be accessed through special portals scattered throughout the game world. The latter are procedurally generated, so every trip to them means facing new challenges. The driving force behind the add-on are the quests pushing forward the storyline, which take about 6 hours to complete. They are complemented by numerous side missions.
The list of novelties implemented in the described DLC does not end here. A new chaos mechanic has been introduced, which is connected both with the operation of the protagonist's equipment, as well as with the enemies and visited dungeons. In addition, the authors have prepared new enemies (and slightly changed some of the opponents known from the original), previously unavailable weapons, shields, armor and accessories are waiting to be acquired, and the character can gain up to 50 experience level, discovering new skills at the same time. A merchant selling boxes of random items is also waiting to be visited here.
Technical aspects
Fatesworn is a standalone add-on and therefore requires the base game version of Kingdoms of Amalur: Re-Reckoning to run. The add-on does not introduce any changes in the graphics, however, it brings a number of new songs composed by Grant Kirkhope.
Last updated on 09 March 2023
Game mode: single player
PEGI rating Kingdoms of Amalur: Re-Reckoning - Fatesworn
Kingdoms of Amalur: Re-Reckoning - Fatesworn System requirements
Minimum:
Dual Core 2.5 GHz
4 GB RAM
graphic card 1 GB GeForce GTX 460 or better
10 GB HDD
Windows 7/8/10 64-bit
Recommended:
Quad Core 3.0 GHz
8 GB RAM
graphic card 2 GB GeForce GTX 660 or better
10 GB HDD
Windows 7/8/10 64-bit