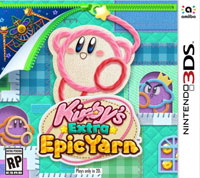 Kirby's Extra Epic Yarn
3DS
A special version of Kirby's Epic Yarn, an eye-catching platformer in which we play the title character who is a charming wool ball.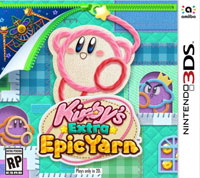 game language: English
game release date for 3DS:
08March2019
Kirby's Extra Epic Yarn is a special version of the 2010 release of Kirby's Epic Yarn, the tenth installment of the popular platformer series born in 1992. The title was developed by the authors of the original - Good Feel studio and HAL Laboratory.
Story
In Kirby's Extra Epic Yarn players play the charming pink ball named after Kirby. One day the hero is transformed into a creature created from a spear. In this form, he ends up in the fabric world of Patch Land, which found itself in danger - not only was he punctured, but he is also threatened by the sinister Yin Yarn. Joining forces with Prince Fluff, the heros must collect seven fragments of the magic wand, with the help of which he will be able to conquer the land and stop the antagonist.
Mechanics
In Kirby's Extra Epic Yarn, the action is shown from the side. Crossing different locations, Kirby overcomes a variety of terrain obstacles and fights enemies he encounters. The hero uses the wandering like a whip to throw enemies into the air and activate a variety of mechanisms, allowing him to get to hard-to-reach places. In addition, he often makes use of his unique ability to transform himself into a variety of objects. As an umbrella, our client falls a little slower, in the form of a car quickly covers long distances, after transforming into a bathyscaph can move under water, while turning into a robot, is able to face hordes of opponents.
On each level there are lots of objects waiting to be collected - we are talking about beads that we spend on furniture and other items of equipment for Kirby's apartment. Interestingly, during his voyages the protagonist cannot die - after taking damage or falling into an abyss he loses some of his loot. Going through the next stages we get patches with which we fill in the perforated map - in this way we unblock the next locations.
Compared to the original Kirby's Extra Epic Yarn has a special mode called Devilish Mode, in which Kirby escapes from the enemy, trying to reach the end of the stage. In addition, various mini-games have been implemented and bonus heroes have been made available to us. The list of novelties is closed by Kirby's additional abilities.
Technical issues
Thanks to the cartoon style of the original, Kirby's Extra Epic Yarn's two-dimensional graphics look great. The title works only in 2D mode.
Please let us know if you have any comments or suggestions regarding this description.

Expectations: 7.2 / 10 calculated out of 4 players' votes.
PEGI Rating