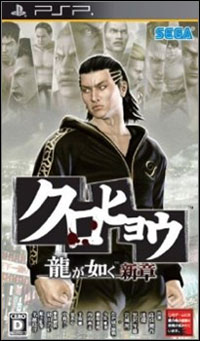 Kurohyou: Ryu ga Gotoku Shinshou
PSP
Another production set in the Yakuza series universe. Amusemenent Vision studio is still responsible for the production, but this time the plot does not tell the story of Kazuma Kiryu.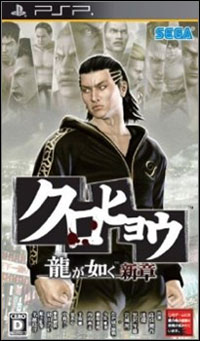 game language: Japanese
game release date for PSP:
22September2010
Kurohyou: Ryu ga Gotoku Shinshou is the fifth game set in the universe of Yakuza. At the same time it is the first title in the series in which the main character is not Kazuma Kiryu. The game was created by Amusement Vision studio and the publisher is Sega.
The main character this time is eighteen-year-old Tatsuya Ukyo. The boy is an example of a typical adventurer who thinks that he will take care of everything by force. The whole story begins with the fact that he ends up in a correctional facility for beating. Even releasing him from the centre doesn't give him much, because he continues with his lifestyle and is thus expelled from school. Living on the street, he finally gains the title of the strongest in the area. Once he tries to rob a person, he comes across a member of the Tojo clan, Naoki Toda. This is the turning point in his life, because he struggled with the wrong person....
The gameplay is reminiscent of what we saw in the previous editions of the series. Once again, in addition to performing further tasks, we can undertake many side missions. Subsequent events are interwoven with dialogues with other characters, as well as intermittent scenes, which this time were presented in a slightly different form than before. Instead of action-packed videos on the game engine, this time it's a combination of still frames and animations - this is probably due to the limited space on the UMD disk.
Naturally, the graphic design cannot compare to what we have seen on stationary consoles, but it looks good if we take into account the limited capabilities of PSP. Fortunately, dubbing has not been completely abandoned, so the characters also express their opinions, and following the plot is not only about reading the text.
Please let us know if you have any comments or suggestions regarding this description.

Game score 9.3 / 10 calculated out of 191 players' votes.
Expectations before the premiere: 6.7 / 10 calculated out of 6 players' votes.
Age Rating
age requirements: everyone