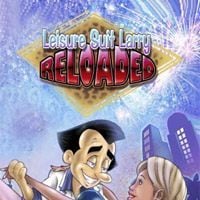 Leisure Suit Larry: Reloaded is a remake of the first part of the adventure games series telling the story of an erotomaniac called Larry Laffer. The refreshed version was prepared by Replay Games Studios. Moreover, Al Lowe himself, the father of the series, was involved in the works.
The main character is a balding forty-year-old Larry Laffer. Fed up with the feeling of loneliness, the protagonist decides to look for affection in the city of Lost Wages. Many adventures await him in his love crusade, as well as a necessity to fight for the heart of one of five women. Laffer's chosen one may be a local prostitute, a dissolute frequent visitor of nightclubs, a receptionist who already has a boyfriend, a whale lover, and a beauty called Eve. The game is a comedy and sports many laughter-inducing scenes.
Leisure Suit Larry is a 100% adventure game. Therefore gameplay is based on exploration, collecting items, conducting conversations and solving puzzles. An interesting element of gameplay is the need of money. Winning female hearts requires using cabs and buying gifts. Larry's funds can be repaired by playing blackjack and gambling on slot machines.
The original game was released in 1987. It had EGA-based 16-color graphics, and the interface was based on manual commands. The first remake was released in 1991, which boasted VGA graphics in 256 colors and a point-n-click interface. Compared with these two releases Leisure Suit Larry: Reloaded has brand new high definition visuals, maintained in a cartoon style resembling the seventh part of the series. The interface was simplified so that now it looks like that of most of the modern adventure games. Also certain puzzles were changed in order to eliminate some not very logical solutions known from the original. The game still does not offer the option of backlighting collectible items.
The most important change is resolving the problem of the main hero's death, which in Leisure Suit Larry is a common and often quite unexpected phenomenon. In the original Larry game in such a situation the player was kicked to the main screen, which kept him thinking nervously whether he saved the game lately. In Reloaded you watch a funny animation and get back to the moment right before the death.
Age Rating
age requirements: 18+
System requirements
Recommended:
Pentium 4 1.8 GHz
4 GB RAM
graphic card 256 MB (GeForce 6800 or better)
4 GB HDD
Windows XP/Vista/7