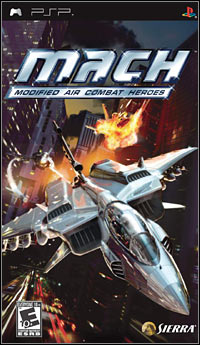 M.A.C.H.: Modified Air Combat Heroes
PSP
M.A.C.H.: Modified Air Combat Heroes is an action game in which we control combat jets. However, these are not ordinary machines of this type, because they have been subject to a kind of tuning by the owners. The latter are not big armies at all, but individuals.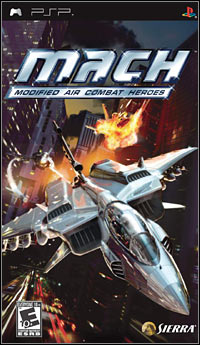 Game mode: single / multiplayer
Multiplayer mode: local network, players: 1-8

game language: English
game release date for PSP:
20February2007
In the year 2049, the governments of the world switched to unmanned aircraft for combat in an attempt to save lives. By doing so, they decommissioned thousands of jets and their fighter pilots, ironically destroying the livelihood of those they were trying to save. Years later, these planes appeared on the black market and were sold to the highest bidders. It wasn't long before an underground emerged, featuring ex-fighter pilots, smugglers and wealthy hobbyists piloting the decommissioned aircraft. In a competition of fight and flight, these pilots heavily modify their jet fighters to outrace and outduel the competition to win fame, glory and fortune. Welcome to the world of M.A.C.H.
* Arcade - Arcade mode is designed to throw gamers into the action as quickly as possible and, although only one plane will be available initially, progressing through the Career mode to unlock other planes will gradually give access to the full Arcade experience.
* Career - This mode consists of a collection of high-octane tournaments spread over various landscapes. As gamers progress through their career from a Rookie through Pro, Ace, Elite and finally to a combat Hero, they'll gradually win access to enemies' planes and earn cash, which will enable players to upgrade capabilities and keep up with the competition.
* Challenge - Each tier consists of five challenges - MACH Melée, MACH Dash, Time Check, MACH LAP and Dog Tag - in different locations in the quest for ultimate glory.
* Multiplayer - Players race or dogfight against up to eight opponents over an Ad Hoc wireless network or via Game Sharing with rival PSP system owners for the ultimate deathmatch experience! (Game sharing mode requires only one copy of M.A.C.H.)
PEGI Rating
System requirements