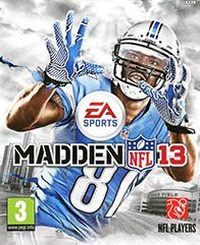 Game mode: single / multiplayer
Multiplayer mode: Internet / split screen
The Madden NFL series is not without reason considered to be one of the oldest and longest-lived video games in history. Over a quarter of a century, the series developed by EA Tiburon studio has seen nearly thirty installments on a dozen or so hardware platforms.
While designing the Madden NFL 13, the developers have set themselves the goal of creating the most realistic American football simulation possible, shorting the boundaries between a video game and a TV broadcast of a sporting event.
As in the previous parts of the series, players have the opportunity to direct the actions of their favorite teams in the NFL league. The official National Football League license has allowed developers to implement the names of all teams and athletes participating in the 2012/2013 season, and EA Tiburon developers have made sure that matches in virtual stadiums are accompanied by the atmosphere of real life arenas. Among the most important changes introduced in Madden NFL 13 is the modified pass system. On the one hand, the creators made sure that the speed and trajectory of the ball's flight were more realistic, but on the other hand, they made it possible to perform unusual actions, activating more areas on the pitch. The game on the quaterback position was also significantly improved. The quarterback players gained over 20 new moves, including more possibilities to perform the professions. The new pass mechanisms were accompanied by changes in the behavior of players controlled by computer-aided artificial intelligence. Football players from both their own and the other team react faster to situations on the pitch - they go out to the ball, knock down opponents or use zone cover. What's more, rivals can adapt their game to the tactics used by the player.
The Madden NFL 13's visuals are stylized in form of a TV broadcast of the match. Players' models, especially the stars of the sport, are depicted with attention to facial and body details. High detail was drawn to the natural movements of virtual football players, including 430 animations of catching the ball. For the purposes of the game, 82 hours of comments were recorded by Jim Nantz and Phil Simms - sports journalists of CBS television. The Madden NFL 13 soundtrack contains 15 musical pieces by Colin O'Malley performed by a symphony orchestra.
Similar games:
PEGI Rating
System requirements
Microsoft Xbox 360
Uses: Kinect (opcjonalnie)