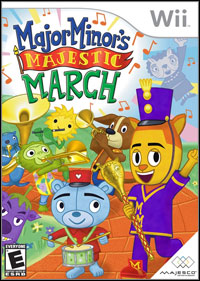 Major Minor's Majestic March
Wii
An unusual music game based on breaking the tempo. We play as the conductor of a marching orchestra equipped with a magical baton.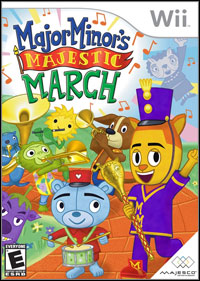 game language: English
game release date for Wii:
31March2009
Marchtown has always been a town in which Drum Majors are adored. One young boy, Major Minor, wanted more then anything to become the world's greatest Drum Major and he would stop at nothing to reach his goal. But something was missing.... He needed band members and instruments to start a marching band. Once he inherited the Magic Baton from his great grandmother he was ready to begin recruiting members for his band. Can Major Minor fulfill his potential and share the joy of marching with the world?
Major Minor's Majestic March marks the return of the creative team behind the renowned PaRappa the Rapper franchise--legendary game designer and multimedia musician Masaya Matsuura and famed New York artist Rodney Alan Greenblat.
Your Wii Remote is Major Minor's special bandleader baton, used to keep tempo, recruit new band members and pick-up valuable items. If your rhythm is unstable confusion will result; band members will drop out and you could ultimately fail the stage.
March in 7 different whimsical locations. Use your best efforts to create the most impressive parade ever while nimbly avoiding obstacles.
Recruit up to 30 original characters for your band by using the Wii Remote to attract them to the parade. Each player moves at different speeds so it's important to maintain the best rhythm for the overall procession to ensure the highest score for each stage.
Add 20+ different instruments to your procession, from brass to woodwinds to percussion.
As the makeup of the band changes, so does the performance; it all depends on which members you select! Try different combinations each time you play.
Use your whistle to manage the procession when obstacles appear in your path. Train tracks, suspension bridges, a road race, even political rallies can affect a smooth performance that might disperse your band should panic and confusion result.
Numerous modes of play include:
Single Player--progresses the overall game storyline as you play.
Cooperative Multiplayer Mode--Play together with a friend to build and maintain the band!
Contest Multiplayer Mode--Compete to see who can amass the largest procession
March and keep tempo to more than 20 well-known marching band tunes from around the world, composed into original medleys for each unique stage.
Dazzle the crowd with your incredible baton-twirling displays during Drill Mode.
Unlock new characters, difficulty levels, multiplayer and so much more!
Similar games:
PEGI Rating