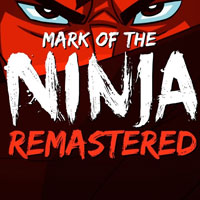 Mark of the Ninja Remastered is a refreshed version of Mark of the Ninja, a production combining elements of classic platformer, action games and sneaking. Behind the development of this title are the authors of the original - Klei Entertainment - whose portfolio includes such items as Don't Starve, Shank series or Invisible, Inc.
Plot
Mark of the Ninja Remastered takes place in modern times. The player takes on the role of a ninja warrior following in the footsteps of Hessian Services, a private military organization that attacked his clan's headquarters; the hero's goal is to take revenge on the invaders and kill their leader. In order to meet the challenge, in the course of his adventure heros adorns his body with tattoos that sharpen his senses and increase his combat potential. However, it is complicated by the fact that the clan tradition dictates that after eliminating the threat, a "marked" warrior commits suicide before falling into madness caused by the presence of tattoos.
Mechanics
In Mark of the Ninja Remastered we observe action from the side. The game consists of a number of levels through which we pass unnoticed, avoiding alert enemies and hiding in the shadows, while at the same time trying not to generate too much noise (we can draw attention to ourselves, not only standing in full light, but also running or destroying elements of the environment).
By hiding behind the adversaries' backs, the hero can eliminate them from surprise by using his sword or throwing knives; while the former allows silent killings from close up, the latter can also be useful for solving uncomplicated puzzles requiring, for example, the activation of a switch. In addition, heros uses smoke grenades, among other things, which allow him to escape enemies when he is spotted.
However, we do not immediately get access to the whole arsenal - for silent killings, successful escape after detection or even for completing the stage without starting an alarm, we receive so-called honor points that play the role of currency; in exchange for them we buy new weapons, gadgets or skills for the protagonist (headed by teleportation or the ability to eliminate enemies from heights). The game is diversified by the presence of optional activities and a scoring system evaluating our actions. In addition, after the first completion of the game, we can restart the game in New Game Plus mode, in which we get all the upgrades unblocked at the start.
Technical aspects
Compared to the original Mark of the Ninja Remastered, it boasts an improved audiovisual setting. In addition, the game has implemented content previously available only in the Special Edition version, which includes an additional level, a new character, bonus items and developers' commentary.
PEGI Rating
System requirements
PC / Windows
Minimum: Intel Core 2 Duo E6600 2.4 GHz, 4 GB RAM, graphic card 1 GB GeForce GT 720 / Radeon HD 7770 or better, 8 GB HDD, Windows 7 64-bit