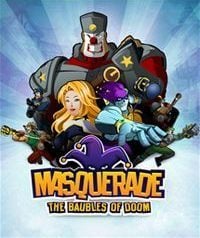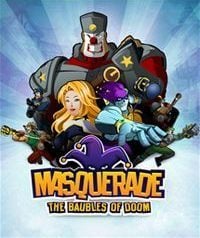 Masquerade: The Baubles of Doom
A tongue-in-cheek action-adventure game by Big Ant Studios from Australia, which is a combination of a brawler and a 3D platformer. Masquerade: The Baubles of Doom takes you to a fantasy world invaded by an army of maniacs named Clowns.
Action | TPP | 3D platformers | humorous | indie games | action adventure | slasher
Masquerade: The Baubles of Doom for PS3, PC and etc. is a third-person perspective action-adventure in a comic book style created with a pinch of salt. The title is developed by Big Ant Studios from Australia, mostly known for numerous sports games concerning e.g. rugby, cricket, and lacrosse.
Plot
The action is set in a fantasy land known as The Realm, in which a fierce battle for mythical Druid Orbs is going. The artefact gives its possessor the power to rule the world. The army of maniac Clowns arrives from far away in order to join the fight for the Orbs and launch the true "clown invasion" on the Realm. You assume the role of a smartass clown named Jaxx, who toghether with his friend Comedia deserts from the Clown army with the intention of finding the artefact on their own. When Comedia gets kidnapped and imprisoned, freeing her and laying hands on the Druid Orbs before the unpredictable invaders do it, become the hero's main objectives.
Mechanics
Mechanics in Masquerade: The Baubles of Doom combine adventure, platform, and fighting games elements. Therefore, during gameplay you mostly explore the Realm's different locations and fight clowns and other original enemies standing in your way. Mechanics are quite extensive and enable the player to dodge, counter attack, and even to throw a massive hammer, which is the hero's main weapon. Each action can be combined into a combo, which fills a special energy bar that gives you a chance to make a super-attack. Apart from dynamic and impressive battles, the game by Big Ant Studios also features sequences in which you have to jump on gigantic mushroom caps and other platforms, while avoiding traps. There are also simple logic puzzles that rather than force, require brains.
Technical aspects
Published on PS3, PC and etc., Masquerade: The Baubles of Doom utilises attractive 3D visuals in a comic book style. During fight, the camera often slows down and just like in Matrix, shows scenes in slow motion and some of the sounds are accompanied by comic, speech bubbles. The title is seasoned with a large dose of crazy and sometimes abstract humour.
Game mode: single player
PEGI rating Masquerade: The Baubles of Doom
Masquerade: The Baubles of Doom System requirements
Minimum:
Intel Dual Core E5700 3.0 GHz
2 GB RAM
graphic card 1 GB GeForce GT 530/Radeon HD 6670 or better
5 GB HDD
Windows XP/Vista/7/8
Recommended:
Intel Core i3-3210 3.2 GHz
4 GB RAM
graphic card 2 GB GeForce GT 650/Radeon HD 7790 or better
5 GB HDD
Windows XP/Vista/7/8